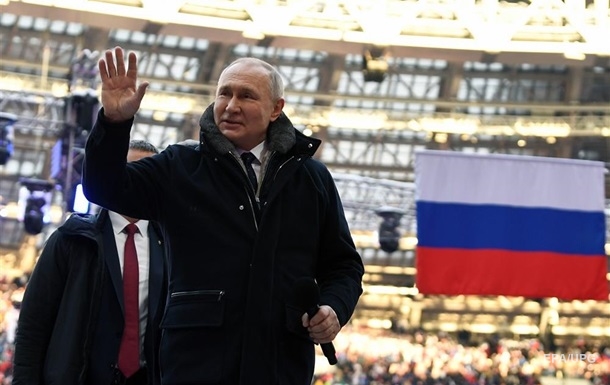 This week, Vladimir Putin has a continuous benefit performance
The President of the aggressor country took part in a propaganda concert at the Luzhniki stadium.
Right now there is a battle on the "historical frontiers" of Russia. This was stated by President of the aggressor country Vladimir Putin during a speech at a rally-concert in Luzhniki on Wednesday, February 22.
"Today, within the framework of a "special military operation" (as Russia calls an aggressive war against the Ukrainian people – ed.) … Here we are gathered here for, in fact, a festive event, but I know that now I was only listening to the top military leadership of the country, about the fact that right now there is a battle going on on our "historical frontiers", for "our people"," Putin said.
He added that this fight "is conducted by the same courageous fighters" as those military men who are at the event in Luzhniki with plastic machine guns and pistols.
Putin called on those gathered at the stadium to shout "Hurrah" three times so that the "courageous fighters" could hear them.
Later, Putin offered to shout cheers "for the unity of the Russian people." From the way he waved the microphone, it was clear that he was waiting for a triple cheer again, but the stadium shouted only once. Then Putin offered to shout the word "Russia" and left under these shouts.
Recall that on February 21, Putin delivered a long-promised address to the Federal Assembly. His speech became a set of Russian propaganda clichés. And in fact, the only news from all this verbal flow was that Putin announced the suspension of Russia's participation in the Strategic Offensive Arms Treaty (START).
After that, the President's Office announced Putin's "taiga dead end".

News from Perild.com in Telegram. Subscribe to our channel