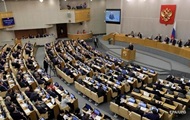 Representatives of the ruling regime of the Russian Federation claim that the Moscow time zone allegedly operates in these territories anyway.
Russian parliamentarians submitted to the State Duma of the Russian Federation a draft law in which they propose to establish the Moscow time zone in the "DNR", "LNR", the occupied parts of the Kherson and Zaporozhye regions. This is evidenced by the corresponding bill.
Representatives of the ruling regime of Russia propose to include the "DNR", "LNR", Zaporozhye and Kherson regions in the territories that form the second time zone (MSK, Moscow time, UTC + 3).
The explanatory note states that in these territories allegedly and so actually "Moscow time operates."
As previously reported, State Duma deputy Andrey Kolesnik proposed the introduction of the death penalty for "betrayal" of Russia.

Russia adopts law suspending participation in New START

News from Perild.com in Telegram. Subscribe to our channel