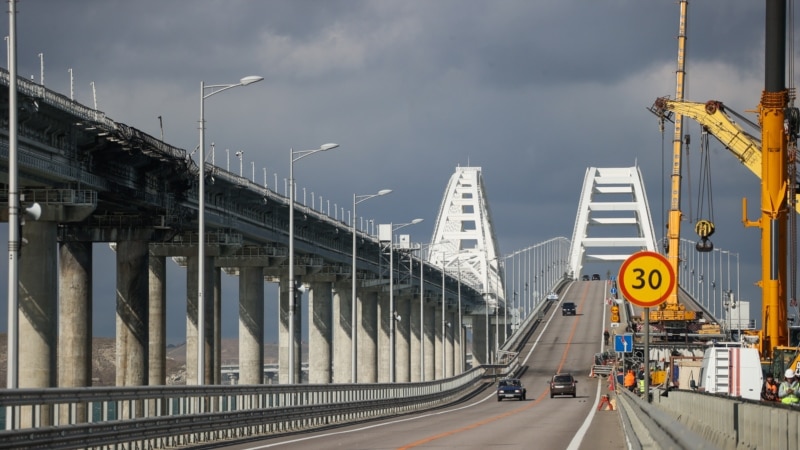 On February 23, the Russian authorities announced the completion of the repair of the bridge across the Kerch Strait. It was blown up in mid-autumn, about 250 meters of the roadway collapsed, killing 5 people. In fact, only the automobile part has been repaired, one of the two railway lines is planned to be repaired in another six months.
The explosion on the bridge occurred on the morning of 8 October. A truck with explosives exploded on the automobile part, the investigation insists. After that, a train loaded with fuel caught fire passing over the bridge. Russian President Vladimir Putin called the incident a terrorist attack and said that its executors and customers were the special services of Ukraine. Kyiv has repeatedly stated that it considers the bridge a legitimate military target, but did not take responsibility for what happened.
Eight people have been arrested on charges of preparing an explosion in Russia. All of them were detained within a week after the incident. Lawyers for six of the eight defendants said investigators chose "a set of random people" as perpetrators. (Defenders of two more defendants did not comment on the case to the channel).
Among those arrested is 37-year-old Armenian citizen Artur Terchanyan, a truck driver, whom the investigation suspects of transporting explosives before blowing up the bridge. Another defendant, Roman Solomko, a Ukrainian farmer from Kherson, is said to have planned the operation. The grain supplier from Kherson, Volodymyr Zloba, is named by the FSB as a liaison between the organizer and the performers.
Armavir warehouse owner Georgy Azatyan and his younger brother Artyom Azatyan are accused of possessing explosives. Two more suspects, Alexander Bylin and Oleg Antipov, were engaged in the transportation of goods and the supply of products – they were accused of preparing the logistics of the explosion. Lipetsk businessman Dmitry Tyazhnykh rented virtual SIM cards before his arrest, the prosecution believes that he gave "the organizers of the terrorist act the opportunity to negotiate."
At least six of the defendants were interviewed by the FSB for the first time immediately after the bridge was blown up and released without any claims. None of them tried to hide, all actively cooperated with the special services. According to the article initiated in Russia about the terrorist attack, they could face up to 20 years in prison.