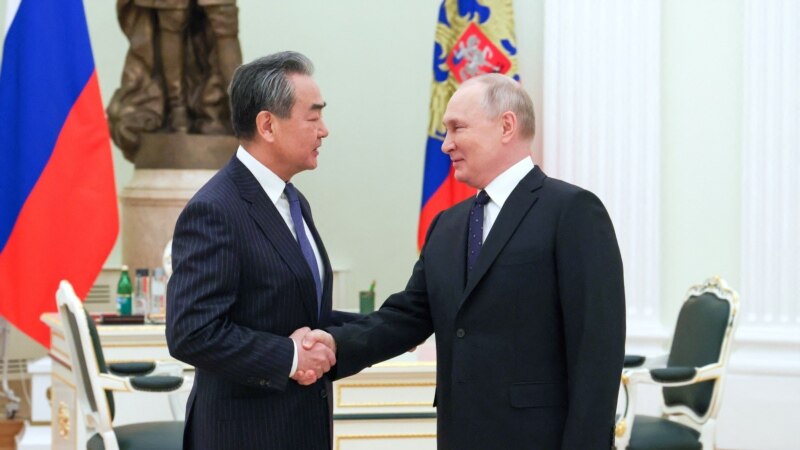 The arrival in Moscow of leading Chinese diplomat Wang Yi shortly before the anniversary of the Russian invasion of Ukraine was further evidence that China continues to move closer to Russia. This is worrisome in Washington, US State Department spokesman Ned Price said Wednesday.
"What worries us is that these two countries have a common vision," Price said, explaining that he was referring to their vision of an era when big powers could intimidate small countries and borders were redrawn by force. Price noted that Washington cannot yet confirm the supply of "lethal aid" by China to Russia, but this does not mean that Beijing and Moscow have removed the issue from the agenda, Reuters quotes a State Department spokesman.
On February 22, Wang Yi, Chief Foreign Policy Adviser to Chinese President Xi Jinping, met in Moscow with Russian President Vladimir Putin and Foreign Minister Sergei Lavrov.
Putin, among other things, spoke about new frontiers in relations with Beijing. "Everything is moving forward, developing. We are reaching new milestones," Putin said verbatim. He noted, in particular, that trade with China is growing faster than expected, and it will soon be possible to reach the level of $200 billion a year.
The Russian president also repeated Xi's invitation to pay a visit to Moscow. This trip, as The Wall Street Journal reported recently, citing sources, could take place in April or early May.
Not so long ago, Washington said that China is exploring the possibility of supplying Russia with weapons for the war in Ukraine. This is fraught with the conflict escalating into a confrontation between the Russia-China alliance on the one hand and the Ukraine-NATO alliance on the other. On the eve of the same The Wall Street Journal wrote about the possible publication of intelligence data by the administration of President Biden that the PRC is indeed considering military support for Russia.
Wang Yi himself – both at an international security conference in Munich last week and in a conversation with Sergey Lavrov on Wednesday (according to the TASS news agency) – pointed to Beijing's desire to help resolve the situation in Ukraine by political means, "to adhere to an objective and impartial stance."
State Department spokesman Ned Price, when asked Wednesday about Washington's possible reaction to China's lethal aid shipments to Russia, said it would have "real implications" for US bilateral relations with China. Price also mentioned the inevitability of action against Chinese companies and individuals in case of violation of the sanctions regime, and also pointed to the reputational loss for Beijing.