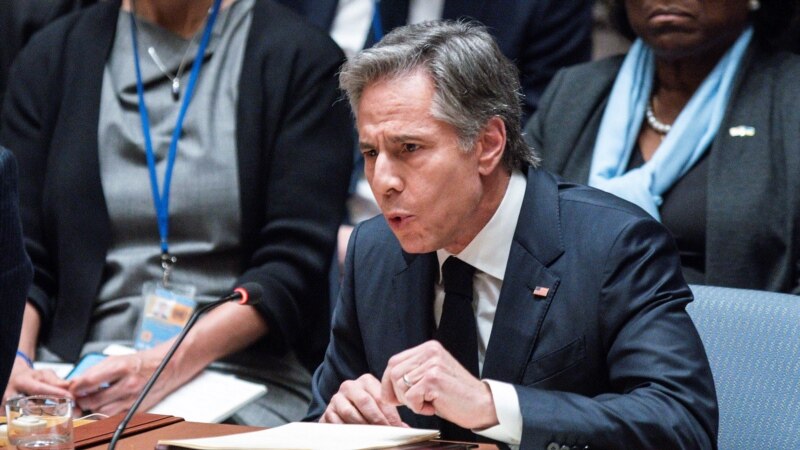 US Secretary of State Anthony Blinken, at a meeting of the UN Security Light convened on Friday to mark the anniversary of the full-scale Russian invasion of Ukraine, warned of the danger of being deceived by calls for a temporary or unconditional ceasefire.
"Any peace that legitimizes Russia's military land grab will weaken the UN Charter and send a signal to would-be aggressors that they can invade countries with impunity," Blinken said. Addressing the members of the Security Council, he recalled the fears of Western leaders that Moscow would use the ceasefire to rest and rearm.
Moreover, according to Western news agencies, Anthony Blinken's warning came only hours after China called for a comprehensive ceasefire as part of Beijing's proposed 12-point plan to resolve the conflict. At the same time, the PRC leadership has recently declared "boundless friendship" with Russia and avoids criticizing Moscow for invading Ukraine.
A day earlier, on February 23, the UN General Assembly by a majority vote adopted a resolution calling for the establishment of a just and lasting peace in Ukraine, again demanding that Moscow withdraw its troops from the neighboring country and stop hostilities. The Russian Foreign Ministry later criticized the document, calling it "another anti-Russian initiative." In addition, the Russian Foreign Ministry said that "Moscow highly appreciates the sincere desire of Chinese friends to contribute to the settlement of the conflict in Ukraine by peaceful means."
Ukrainian President Volodymyr Zelensky, as noted, welcomed only some elements of the Chinese proposal for a ceasefire. According to him, the proposal to some extent corresponds to international law and the principle of territorial integrity, but he pointed out the lack of specifics in terms of it. "China has brought its views. And I think that the fact that China has spoken about Ukraine is not bad. But the question is what will follow the words. What will be the steps and where they will lead," Zelensky said on Friday at a press conference. conferences in Kiev.
Volodymyr Zelensky also said that there are points with which he does not agree with the Chinese plan, and called on Beijing not to supply weapons to Moscow. The US has previously suggested that China is considering providing "lethal assistance" to Russia and warned Beijing against such a move.
More about the events – in the video releases of Radio Liberty: