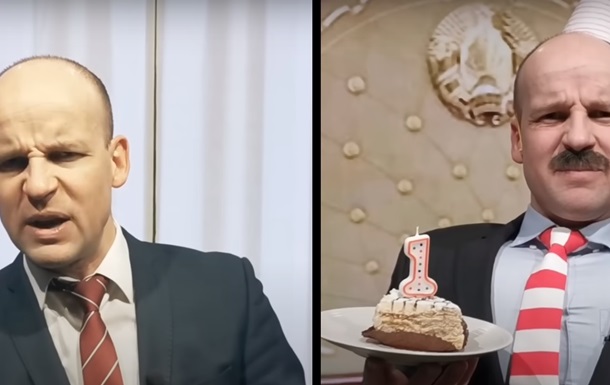 Photo: Screenshot
Yuri the Great as Lukashenko and Putin
The comedian admitted that he did not want to upload the video on the anniversary of Ukrainian invincibility, but nevertheless decided to add a little positive.
The actor of Studio Kvartal 95 Yury the Great released a new parody, in which he immediately embodied the images of Lukashenka and Putin. The video was released on the artist's YouTube channel.
In particular, in the new video, the artist in the form of the self-proclaimed president of Belarus congratulated the head of the Kremlin on the anniversary of the "stupid idea" to attack Ukraine, but he laughed to remind that he also supported this idea.
"Vladimir Vladimirovich, well, you know. Today I say one thing, tomorrow another. And a year ago, anything at all. You know me, I always boil for anyone, if only not in Belarus. And in general, my life credo is – always agree with you, and yours – give me money for this, "said the artist in the role of Lukashenka.
Also, Yuri the Great commented on the recent speech of the President of the Russian Federation with a message to the Federal Assembly of the Russian Federation.
"I really liked it. It was very … long. But it was straight to the point. I watched without sound, which is why I really liked it. I also noticed that if you watch your performance in rewind, you can see how people in hall wake up and joyfully walk with their backs to the exit," he summed up.
Earlier it was reported that Yuri the Great parodied the head of Chechnya, Ramzan Kadyrov, who, in an interview with propagandist Olga Skabeeva, showed a "trophy pistol".

The comedian vividly parodied "Putin's detachments"

News from Perild.com in Telegram. Subscribe to our channel