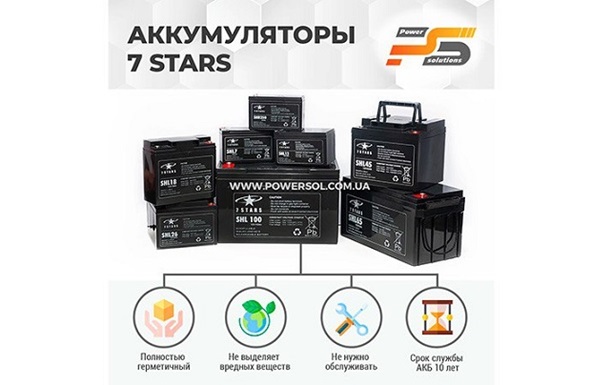 Photo: Provided by advertiser
In this article, we will consider all issues related to the choice of batteries for a UPS from a technical and consumer point of view.
It is necessary to choose a battery for a UPS traction or they are also called deep discharge batteries. Let's imagine a situation when an ordinary buyer opens a search engine and writes: buy batteries for a UPS, and receives more than 10 pages of various offers, brands, a lot of characteristics, etc. in the issue. And how in this variety to choose the battery that is suitable for its UPS?

The main step in choosing a battery for a UPS is to study the technical characteristics of your device.
There are two types of UPS: with built-in batteries and for operation from external batteries. Typically, UPSs with built-in batteries are designed for short-term maintenance of work processes, as a rule, this time is up to 25-30 minutes. Such UPSs use batteries with a voltage of 12V and a capacity of 7Ah, 9Ah and less often 12Ah. The number of batteries that are placed in such UPS ranges from 1 pc to 20 pcs, and depends on the power of the UPS. For example, in a 3 kVA UPS, 6 pcs or 8 pcs of batteries with a capacity of 7 or 9Ah can be installed. Uninterruptible power supplies that are designed to be connected to external batteries are usually equipped with enhanced chargers to keep the batteries in a high-quality state of charge. Such UPSs are designed to maintain the operation of devices connected to it for a long time, which sometimes reaches 15-16 hours.
As we are already beginning to guess, choosing a battery for a UPS that is designed to work with built-in batteries is not difficult, because. 7 Ah and 9 Ah batteries differ from each other only in capacity and weight. It is enough just to find out how many batteries are needed for a particular UPS model. Well, of course, you will have to choose according to such parameters as: which manufacturer is better? What price is better? Is there a delivery? etc.
It's a little more difficult to choose a battery for a UPS that is designed to work with external battery connections. As we discussed earlier, the number of batteries used with a UPS can vary. And to ensure long-term operation of consumers, it is necessary to use batteries with a large capacity, for example, 26 Ah, 35 Ah, 55 Ah, 100 Ah, 150 Ah, and sometimes 200 Ah and even 300 Ah. Here you need not to make a mistake and choose the battery that suits your device. In this case, you also need to refer to the operating instructions and find out what charging current the charger of your UPS provides. You should not choose the capacity of the battery on the principle: "the more – the better." The classic choice is the battery capacity for the UPS according to the formula 1:10. Let's decipher the formula in this way: the charger current should be 10 times less than the rechargeable battery capacity. Consider an example: the charger current in your UPS is 15A, when choosing a battery, we understand that the maximum battery capacity for correct operation will be 150 Ah.
Summing up, it is worth noting that both the battery life of the equipment and the service life until the next replacement will depend on the correct choice of battery for the UPS. This is also an important factor to consider. The best UPS batteries on the market are:

● 7 Stars

● BB Battery
● Yuasa

● CSB

● EverExceed
PowerSol is not only a supplier of UPS batteries, but also an engineering company whose specialists replace batteries in both domestic and industrial uninterruptible power supplies. In more detail, the entire range of products and our services you can see on the website.