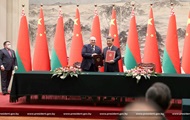 On March 1, Alexander Lukashenko met with Chinese President Xi Jinping in Beijing, the capital of China.
A meeting between formal leader of Belarus Alexander Lukashenko and Chinese President Xi Jinping took place in Beijing today. The negotiations were one-on-one and lasted four hours.
The Belarusian leader's visit to China comes amid growing tensions between the US and China in recent weeks, including Washington's concerns that Beijing is considering sending the Russian army lethal weapons. Note that China denied these allegations.

Negotiation background
The meeting between Lukashenko and Xi came a day after US Secretary of State Anthony Blinken made one of the most direct comments about how the US would respond to "any deadly support China gives Russia."
Blinken warned that Washington would target Chinese firms or citizens involved in any attempt to send "deadly aid to Russia" for its war in Ukraine. Later, he also said that he had no plans to meet with Russian or Chinese counterparts at the G20 foreign ministers' meeting to be held in New Delhi, India on March 2.
Beijing, which claims to be neutral on the war in Ukraine, has denied US accusations that it is considering sending weapons to Russia. On Monday, China's foreign ministry said Beijing was "strongly promoting peace talks and a political solution to the crisis" while the US was "dumping deadly weapons on the battlefield in Ukraine."
Recall that last week China unveiled a "peace plan" of 12 points to resolve the war in Ukraine.

Xi about Ukraine
During today's meeting, the head of China confirmed to Lukashenka China's position on the "peaceful settlement" of the Ukrainian issue.
"China's main position is to promote peace and negotiations. We must adhere to the direction of a political settlement, reject the entire Cold War mentality, respect the legitimate security interests of all countries, and build a balanced, efficient and sustainable European security architecture," he said.
Xi added that "relevant countries should stop politicizing and instrumentalizing the world economy and do what will help to cease fire and war and resolve the crisis peacefully."

What Lukashenka said
The self-proclaimed leader of Belarus, in turn, said that the Belarusian fully supports Beijing's "peace plan".
"Today's meeting is taking place at a very difficult time, which requires new, non-standard approaches and responsible political decisions. They should be aimed at preventing a slide into a global confrontation in which there will be no winner," he said.
"You recently stated this clearly, unambiguously, punctually, addressing the world community. That is why Belarus comes up with proposals for peace and fully supports your initiative on international security," Lukashenka added.
It should be noted that the head of Belarus also met with Chinese Prime Minister Li Keqiang today. The two countries agreed to "intensify" their relationship.
"We do not have closed topics for cooperation. We cooperate in all areas. Most importantly, we have never set ourselves the task of being friends or working against third countries," Lukashenka Li said.

US position
The meeting between the leaders of Belarus and China was criticized by Western leaders who accused China of already siding with Russia.
Reacting to the meeting between Xi and Lukashenko, Blinken said that China "can't have both" while "publicly positioning itself as a force for peace" while it "continues to fan the flames of this fire that Vladimir Putin ignited."
He added that there are "some positive elements" in China's peace proposal, but warned: "If China were really serious about this, the very first principle of sovereignty, it would have been working all last year to support the restoration of Ukraine's full sovereignty."
Blinken also accused China of acting contrary to peace support in Ukraine "in terms of its efforts to promote Russian propaganda and disinformation about blocking and waging war in the interests of the Russian Federation."

News from Perild.com in Telegram. Subscribe to our channel