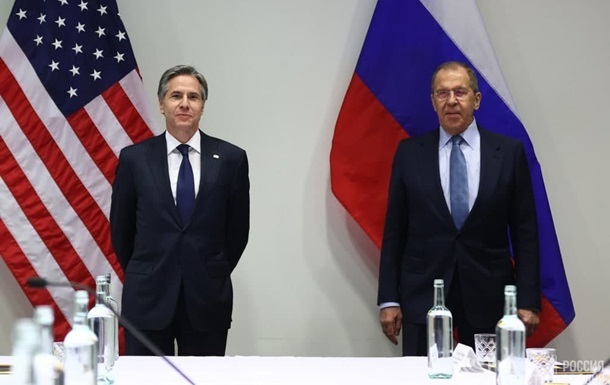 Anthony Blinken and Sergey Lavrov
Blinken called on the Russian Federation to stop the war in Ukraine, return to the implementation of the START-3 Treaty and release the American Paul Whelan.
US Secretary of State Anthony Blinken on Thursday, March 2, confirmed that he had met with Russian Foreign Minister Sergei Lavrov on the sidelines of the meeting of the foreign ministers of the countries big twenty in New Delhi, according to CNN.
"I called on Russia to reverse its irresponsible decision and return to implementation of the START-3 Treaty, which imposes restrictions on the nuclear arsenals of the United States and Russia, which are subject to verification. Mutual compliance with this treaty is in the interests of both of our countries. This is also what people around the world expected of us as nuclear powers," the US Secretary of State said.
According to Blinken, in a conversation with Lavrov, he declared the United States' readiness to cooperate with Russia on strategic nuclear arms control "regardless of what else is happening in the world and in our relations."
Another topic of conversation between the leaders of US and Russian diplomacy was the issue of the release of the American Paul Whelan, illegally detained in Russia. The Secretary of State said that Washington had made "a serious proposal on this issue, and Moscow should accept it."
In addition, the US Secretary of State called on Russia to stop the war in Ukraine and sit down at the negotiating table, reaffirming the US support for Ukraine.
"Every member of the G20 and practically every country continues to bear the costs associated with the Russian war of aggression," he stressed.
Recall that the foreign ministers of the G20 countries could not agree on a joint final declaration at a meeting in India. China blocked the adoption of the final statement due to the fact that it condemned Russia's aggression against Ukraine.
India, which hosted the G20 summit, issued its own statement following its results. It said that all members of the G20, except Russia and China, were ready to "strongly condemn" Russia's full-scale invasion of Ukraine.

News from Perild.com in Telegram. Subscribe to our channel