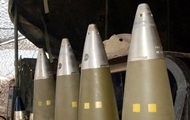 European Union countries have bought ammunition and plan to transfer it to Kyiv in the coming weeks.
Almost all EU countries agreed on a plan developed in Brussels to quickly provide Ukraine with scarce artillery ammunition. They plan to deliver within a few weeks. This is reported by the Financial Times with reference to interlocutors in the EU.
All EU countries, except Denmark, as well as Norway, have joined the project, which provides for the joint purchase of ammunition. "I think it will happen quickly, very quickly. I think it's a matter of days, weeks, not months," the source added.
The plan was discussed on Thursday, March 2, with the permanent representatives of the EU states in Brussels, provides for the allocation of 1 billion euros from the European Peace Fund, which is used to reimburse the costs of the purchase of weapons.
After that, the EU defense department "will conduct an accelerated procedure for direct negotiations with a number of key industrial suppliers in Europe."
In the short term, up to 90% of the cost of ammunition will be reimbursed to EU states. Then the level of reimbursement will gradually decrease to the current average of about 40%.
EU defense ministers will finalize the plan next week ahead of a meeting of bloc leaders on March 23-24.
The decrease in ammunition stocks is of great concern in the EU, since tens of thousands of them are consumed daily by the Ukrainian and Russian sides.
Despite the fact that Ukraine uses ammunition more efficiently, they are still used up faster than Europe is able to produce.
Now the US and the EU are trying to increase production both for supplies to Ukraine and to replenish their own stocks.
It should be noted that the White House announced a new package of weapons to Ukraine, which will be announced on Friday, but its amount was not named.

Various US aid to Ukraine amounted to about $50 billion – minister

News from Perild.com in Telegram. Subscribe to our channel