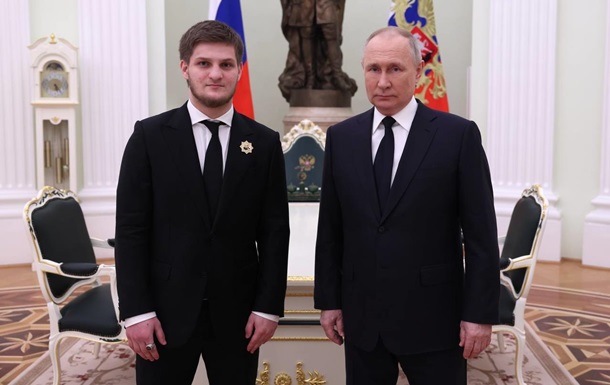 Photo: t.me/RKadyrov_95
Akhmat Kadyrov and Vladimir Putin
The Russian dictator congratulated the 17-year-old son of the head of Chechnya on the upcoming wedding and spoke about his grandfather.
Russian President Vladimir Putin met with the son of his protege in Chechnya, Ramzan Kadyrov, 17-year-old Akhmat. On Saturday, March 4, Kadyrov Sr. spoke about this in his Telegram channel.
He noted that his 17-year-old son holds the post of chairman of the council of the regional branch of the All-Russian Public-State Movement of Children and Youth Movement of the First Republic.
According to Kadyrov, the meeting was informal. During a conversation with the son of the head of Chechnya, Putin, in particular, told him about his grandfather, Akhmat Kadyrov, "gave many wishes" and congratulated Kadyrov Jr. on his upcoming wedding.
"Unfortunately, I don't know other details of this interesting meeting, since I didn't talk about it with Akhmat because of our customs and traditions of strict relations between father and son," the head of Chechnya wrote.
He clarified that he learned some details of the conversation from the presidential adviser, Abubakar Edelgeriev.
Recall that a day earlier, the media reported that Kadyrov Sr. had serious health problems.
Kadyrov had a conflict with a Ukrainian military blogger

News from Perild.com in Telegram. Subscribe to our channel