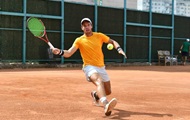 Oleg Prikhodko expressed an unpopular opinion in Ukrainian sports.
The second racket of Ukraine in doubles Oleg Prikhodko shared his thoughts on the possible removal of Russians and Belarusians from the Olympics.
According to the Ukrainian athlete, he does not agree with this, because athletes go all their lives towards their goal.
"As for the removal of athletes from Belarus and Russia from the Olympics, I, as an athlete, cannot understand this. I understand that for all the guys this is a dream that they have been striving for all their lives. I believe that sport should unite people. In ancient times, when Olympics, then all wars stopped, and now it is part of the war."
Read also: Stakhovsky: The hardest thing is to see the despair of people who have lost everything
"Athletes need to be given a chance to realize themselves. For most, this is the only Olympics in their lives. I put myself in their place, and I would not want to be removed from the most important event in my life, to which I have been going all my life," Prikhodko quotes BTU.
Earlier it was reported that Djokovic broke the record for the number of weeks in the status of the first racket of the world.