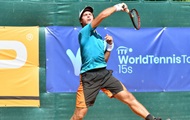 Oleg Prikhodko spoke about relations with the Russians.
The second racket of Ukraine in doubles Oleg Prikhodko shared his memories of playing in tandem with Russian Yan Bondarevsky.
According to the Ukrainian tennis player, he decided to play with him, because Jan is his friend.
"I played a couple with a Russian, because he is my friend. And I played a couple with my friend – nationality does not matter to me. In my opinion, a person should be judged for his actions, and not for his nationality.
Unfortunately, our federation uses the experience of dissidents in the Soviet era, when people were condemned for disagreeing with public views. I have many friends from Russia and Belarus, also my girlfriend is from Russia. They all help me in every possible way and always speak out against the war. So I don't think I did something terrible."
Read also: Ukrainian tennis player: I, as an athlete, cannot understand that they want to remove Russians and Belarusians from the Olympics
Prikhodko said that the Tennis Federation of Ukraine recommended not to play in tandem with him, but he refused.
"Yes, there were recommendations from the FTU, but since I have my own views, I did as I saw fit, I didn't blindly follow the party's policy. In general, I think that such condemnation of athletes only inflames the conflict more. court and beyond, turning into instruments of war and forgetting the basic principle of sport," the BTU Ukrainian quotes.
Earlier it was reported that Tsurenko was ready to withdraw from matches against Russians and Belarusians.