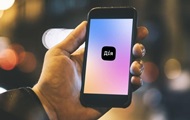 Mstislav Banik noted that against the backdrop of the war, the services of applying for an IDP certificate and canceling such status are in demand.
The most popular services in the Diya application were obtaining a certificate of an internally displaced person, changing the place of residence and canceling the IDP status. Mstislav Banik, Head of Electronic Services Development at the Ministry of Digital Development, told about this during a briefing Whether to leave a day off on March 8 – poll results in Dії and new services this week at the Media Center Ukraine on Monday, March 6.
"Except for documents, because they are the most massive service used by Ukrainians, I would like to mention services for internally displaced persons. Considering that we are now in a full-scale war, they are in demand. The first of them is applying for an IDP certificate. The second is a change of place of residence. The third is the abolition of IDP status," he said.
According to him, no less popular is the service, with the help of which Ukrainians will be able to apply for a free exchange of old incandescent lamps for energy-saving LED lamps.
War bonds are also popular. Ukrainians, with the help of Dії, have already purchased them for 400 million hryvnias.
As previously reported, Ukrainians will be able to choose a name for the South-Western Railway in Dії.

The majority of respondents in Dії supported the preservation of March 8 as a day off

News from Perild.com in Telegram. Subscribe to our channel