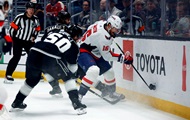 In the National Hockey League last night took place six fights of the regular season.
Winnipeg is in danger of not getting into the NHL playoff zone. Last night, the team suffered another defeat, which was the sixth in their last seven matches. Moreover, the Canadian team lost on its site to one of the outsiders – San Jose 2:3. For the "sharks" this victory was only the second in the last ten games.
We also note the defeat, arranged on its site by Chicago visiting Ottawa. The Black Hawks, finishing the season, simply smashed the Senators aspiring to the playoffs with a score of 5:0.

NHL. Regular Championship. March 7
winnipeg – San Jose – 2:3 FROM (0:1, 1:0, 1:1, 0:1)
0:1 – 14 Lorenz (Labank, Lindbloom)
1:1 – 26 Niederreiter (Connor, Morrissey)
2:1 – 54 Schmidt (Wheeler, Ehlers)
2:2 – 59 Hertl (Couture, Karlsson)
2:3 – 61 Couture (Karlsson)
Buffalo – Edmonton – 2:3 (1:1, 0:1, 1:1)
0:1 – 7 McDavid (Sisi, Macleod)
1:1 – 9 Skinner (Thompson)
1:2 – 38 Ryan (Ners, Shore)
2:2 – 41 Cozens (Mittlestadt, Bryson)
2:3 – 43 McDavid (Eckholm, Voegele)
Dallas – Calgary – 4:5 (0:1, 2:2, 2:2)
0:1 – 3 Ritchie (Whigar, Huberdeau)
0:2 – 24 Zadorov (Kadry, Stecher)
1:2 – 31 Robertson (Benn, Heiskanen)
2:2 – 35 Domi (Seguin, Marchment)
2:3 – 37 Lindholm ()
2:4 – 44 Andersson (Kadri)
3:4 – 49 Hintz (Pavelsky)
4:4 – 54 Benn (Hakanpää, Lindell)
4:5 – 59 Toffoli (Uigar, Huberdo)

Chicago – Ottawa – 5:0 (1:0, 3:0, 1:0)
1:0 – 16 Kurashev (Tinordi)
2:0 – 22 Jones (Dickinson, Bjork)
3:0 – 25 Jones (Athanasiou, Bjork)
4:0 – 30 Dickinson (Entwistle, Björk)
5:0 – 43 Reichel (Athanasiou)

Los Angeles – Washington – 4:2 (0:0, 2:1, 2:1)
0:1 – 31 Sandin (Strome, Milan)
1:1 – 33 Gavrikov (Arvidsson, Fiala)
2:1 – 39 Given (Roy, Arvidsson)
2:2 – 42 Ovechkin (Backstrom, Sandin)
3:2 – 47 Anderson (Kempe, Byfield)
4:2 – 60 Kempe (Kopitar, Iafallo)

Vancouver – Nashville – 4:3 (2:1, 0:0, 1:2, 0:0, 1:0 – by shootout)
1:0 – 4 Pettersson (Bovilliers, Kuzmenko)
1:1 – 4 Sissons (Lauzon, Smith)
2:1 – 10 Podkolzin (Volanin, Burrows)
3:1 – 45 Joshua (Hughes, Oman)
3:2 – 48 Evangelista (Lauzon, Sherwood)
3:3 – 56 Evangelista (Barry)

News from Perild.com in Telegram. Subscribe to our channel