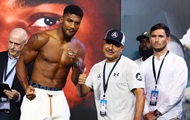 Robert Garcia spoke about the emotional state of the former British champion.
Robert Garcia, former coach of heavyweight star Anthony Joshua, shared his opinion about the Briton's emotional breakdown after losing a rematch with WBA, WBO and IBF world champion Oleksandr Usyk.
According to the specialist, the British boxer was disappointed with his defeat in the second fight with the Ukrainian.
"What happened after the fight, when he grabbed the microphone and set it all up, was a lot of frustration. I think he understood that we were very close to winning and missed it. Maybe he felt a little embarrassed."
Read also: Usyk compared Fury and Joshua
"It was not the right reaction that a fighter usually shows. You don't often see this. I wasn't the only one who said that he was upset and could be a little ashamed of his performance," Boxing Social quotes Garcia.
Recall that in August last year, Joshua lost to Usyk by a split decision. After the fight, Anthony threw Alexander's belts out of the ring, and then made an emotional speech.