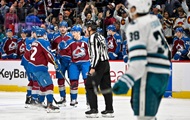 In the National Hockey League last night took place ten games of the regular season.
Seattle maintains chances for the final victory in the standings in the NHL West. Krakens won the fifth victory in a row and came close to the leaders of the conference. But Anaheim did not resist them. One of the outsiders of the championship was beaten away with a score of 5:2.
Meanwhile, Colorado continues to fight for the playoff zone. Last night, the reigning champions on their own ice left no chance for the "sharks" from San Jose, defeating them with a score of 6:0.

NHL. Regular Championship. March 8

Florida – Vegas – 2:1 (1:0, 1:1, 0:0)
Washers: 1:0 – 4 Lomberg (Makhura), 2:0 – 24 Barkov (Cousins, Duclair), 2:1 – 33 Theodore (Smith, Eichel)
Montreal – Carolina – 3:4 (2:1, 1:1, 0:1, 0:0, shootouts – 2:3)
Puck: 1:0 – 10 Belzil (Tierney, Pezzetta), 2:0 – 16 Hoffmann (Drouin), 2:1 – 16 Slavin (Stjastny, Stepan), 2:2 – 21 Shay (Terjavainen, Pesci), 3: 2-22 Pezzetta (Belzil, Tierney), 3:3-56 Fast (Peschi)
New Jersey – Toronto – 3:4 (0:0, 1:1, 2:3)
Washers: 0:1 – 27 Yernkruk (Lafferty, W. Nylander), 1:1 – 36 Howla (Chambers), 1:2 – 44 Marner, 2:2 – 46 Chambers (Howla, Mercer), 3:2 – 49 Howla (Bokvist, Palat), 3:3 – 55 Banting (Hall, Kempf), 3:4 – 57 Matthews (Marner, W. Nylander)

Pittsburgh – Columbus – 5:4 (0:3, 1:1, 3:0, 1:0)
Washers: 0:1 – 4 Bemström (Johnson, Sillinger), 0:2 – 7 Pederson (Foudy), 0:3 – 10 Laine (Johnson, Roslovik), 0:4 – 22 Foudy (Bemstrom), 1:4 – 30 Zucker (A. Nylander, Malkin), 2:4 – 41 Genzel (Rackelle, Crosby), 3:4 – 43 Zucker (Malkin), 4:4 – 44 Heinen (Crosby, Raquel), 5:4 – 62 Crosby (Malkin)

Tampa Bay – Philadelphia – 5:2 (1:1, 3:1, 1:0)
Washers: 0:1 – 5 Frost (Tippet, Farabi), 1:1 – 7 Killorn (Sergachev, Kucherov), 2:1 – 21 Kucherov (Killorn, Sergachev), 3:1 – 28 Colton (Paul, Jeannot), 4:1 – 30 Killorn (Heigl, Cirelli), 4:2 – 32 Lemieux (Ristolainen, York), 5:2 – 57 Kucherov (Point)

Islanders – Buffalo – 3:2 (0:0, 1:1, 2:1)
Washers: 0:1 – 25 Cozens, 1:1 – 32 Sizikas (Romanov, Fasching), 2:1 – 41 Bailey (Romanov, Sizikas), 2:2 – 45 Okposo (Luukkonen, Power), 3:2 – 47 Fashing (Koivula, Bailey)
Minnesota – Calgary – 0:1 (0:0, 0:0, 0:0, 0:0, shootouts – 1:2)

Arizona – St. Louis – 6:2 (1:1, 1:0, 4:1)
Washers: 0:1 – 2 Buchnevich (Kairu, Folk), 1:1 – 12 Fischer (Maccelli, McKay), 2:1 – 36 Schmalz (Keller, Hayton), 3:1 – 42 Boyd (Moser, Keller), 3:2 – 48 Buchnevich (Tucker, Thomas), 4:2 – 51 Boyd (Cöderström, Fischer), 5:2 – 52 Keller (Hayton, Schmalz), 6:2 – 57 Krause (Maccelli)

Colorado – San Jose – 6:0 (3:0, 3:0, 0:0)
Pucks: 1:0 – 4 Makar (Nichushkin, Taves), 2:0 – 12 McKinnon (Nichushkin, Taves), 3:0 – 17 Rantanen (Lehkonen, Girard), 4:0 – 21 Nichushkin (McKinnon, Makar), 5:0 – 22 Malgin (Makar, Nieto), 6:0 – 38 Lehkonen (Nichushkin, Makar)

Seattle – Anaheim – 5:2 (2:0, 1:1, 2:1)
Washers: 1:0 – 3 Oleksyak (Beniers, Eberle), 2:0 – 10 McCann (Beniers, Larsson), 2:1 – 21 Zegras (Harrington, Stroome), 3:1 – 37 Sprong (Schultz, Tanev), 4:1 – 48 Tolvanen (Dunn, McCann), 4:2 – 58 Comtua (Fowler, Silverberg), 5:2 – 59 Schwartz

News from Perild.com in Telegram. Subscribe to our channel