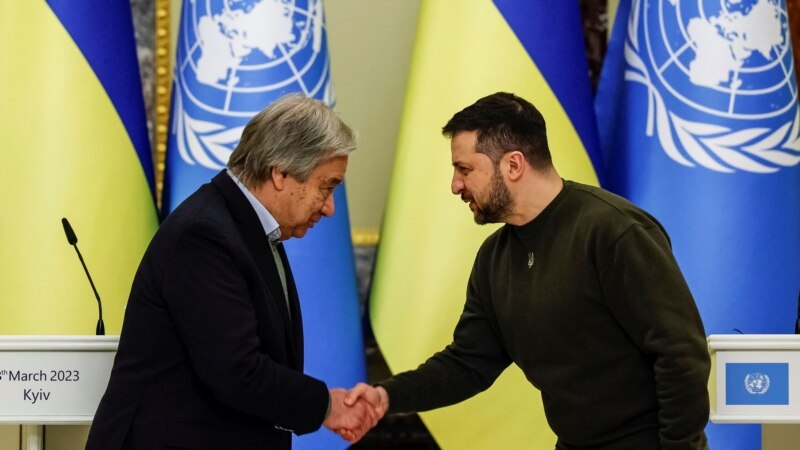 UN Secretary-General António Guterres, during a visit to Kyiv on March 8, spoke for "a just world in accordance with the UN Charter and international law and the resolution of the General Assembly" adopted on the occasion of the anniversary of the start of the Russian armed invasion of Ukraine.
The resolution, which was supported by 141 states with only seven votes against, condemns the Russian invasion, which is called a violation of the UN Charter and international law. "The sovereignty, independence, unity and territorial integrity of Ukraine must be preserved in accordance with the internationally recognized borders of Ukraine," Guterres said, noting that "the position of the UN is absolutely clear."
The resolutions of the General Assembly have no direct legal force, and in the Security Council the adoption of such resolutions is blocked by Russia.
Guterres met on Wednesday in Kyiv with Ukrainian President Volodymyr Zelensky.
They discussed the issue of extending the so-called "grain deal" – an agreement between the UN, Turkey, Russia and Ukraine on the export of Ukrainian grain through the Black Sea ports. The parties to the agreements concluded this agreement in July 2022, and the agreement expires in March. Moscow has repeatedly stated that the deal allegedly does not work and is beneficial only to Ukraine and Western countries, and not to Russia.
After the meeting in Kyiv, Zelensky said that Ukraine and the UN are in favor of extending the term of the grain agreement.
Guterres does not intend to visit Moscow and will return to New York from Kyiv. At the same time, last year, after the Russian invasion, the UN Secretary General visited both Ukraine and Russia.