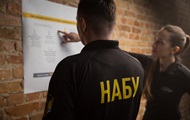 The people's choice tried to take possession of a land plot in Kyiv with an area of ​​8 hectares, but NABU and SAP prevented his plans.
The National Anti-Corruption Bureau (NABU) and the Specialized Anti-Corruption Prosecutor's Office (SAP) reported that the current people's deputy was suspected of illegally trying to seize a land plot in the capital with an area of ​​8 hectares. This was reported by the press service of NABU.
"On March 10, 2023, NABU and SAP informed the people's deputy of Ukraine of the 9th convocation and three other persons about suspicion of trying to seize a land plot of 8 hectares in the capital," the report says.
The NABU clarified that among the suspects: People's Deputy of Ukraine of the IX convocation; ex-deputy head of the Verkhovna Rada Staff – manager of affairs; former director and employee of the State Enterprise State Construction Plant of the Office of the Administration of the Verkhovna Rada of Ukraine (Gosstroykombinat).
According to the investigation, at the beginning of 2020, the people's deputy entered into an agreement with employees of a state-owned enterprise and the deputy head of the Verkhovna Rada's Staff, whose management included the said state-owned enterprise.
The ex-director of the state-owned enterprise, contrary to the law and without the consent of the parliament, held an auction to conclude an investment agreement for the development of a land plot. It was won by a company controlled by the deputy organizer of the scheme. In the concluded investment agreement, the size of the equity participation of the state enterprise was determined in the amount of about UAH 300 million. The real value of the site and property amounted to more than UAH 525 million.
The attackers' plans were thwarted by the arrest of the land plot imposed in August 2021 at the request of the NABU and SAPO, and the development was prevented.
As previously reported, on March 6, the Cabinet of Ministers appointed Semyon Krivonos, who headed the State Inspectorate for Architecture and Urban Planning, as director of NABU.

Seven people tried to seize the buildings of the National Cinematheque – NABU

News from Perild.com in Telegram. Subscribe to our channel