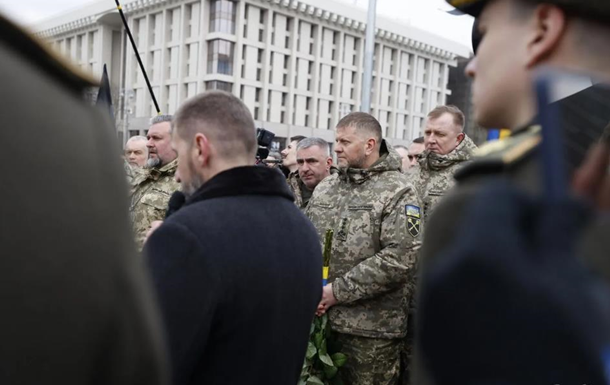 Photo: Evening Kyiv
Zaluzhny said goodbye to the legendary "Da Vinci"
The coffin with the body of the Hero was brought to St. Michael's Golden-domed Cathedral, from there he was taken with a guard of honor to Maidan Nezalezhnosti so that everyone could honor the memory of the warrior.
Commander-in-Chief of the Armed Forces of Ukraine Valery Zaluzhny touchingly said goodbye to the Hero of Ukraine, the legendary commander of the Da Vinci Wolves battalion, Dmitry Kotsyubail, known by the call sign Da Vinci. On Friday, March 10, Valery Zaluzhny published the words of farewell on his Telegram page.
He wrote that he knew Dmitry well, said that the Hero joined the military family of Ukraine nine years ago, at the very beginning of the Russian war against Ukraine.
"A very young guy with sincere eyes, who was never afraid of anything. People united around him with a common goal – to fight for their country," wrote the Commander-in-Chief of the Armed Forces of Ukraine.
"The path to our victory is very difficult. And the price of this victory is the lives of our soldiers. Dmitry Kotsyubaylo. Da Vinci. Sleep well, friend. Glory to Ukraine!" – added Zaluzhny.
He also posted some pictures from the farewell ceremony.
Recall that Dmitry Kotsyubaylo died on March 7 near Bakhmut.
On March 9, a farewell to Kotsubail took place in his native village of Bovshev in the Carpathian region.
Dmitry was born in 1995 in the Ivano-Frankivsk region, graduated from an art college. He is the grandson of People's Artist of Ukraine Ada Rogovtseva. At the age of 18, he took part in the Revolution of Dignity. From Maidan, he immediately went to war as part of the Volunteer Corps Right Sector.
In 2021, Dmitry Kotsyubaylo was awarded the title of Hero of Ukraine.

News from Perild.com in Telegram. Subscribe to our channel