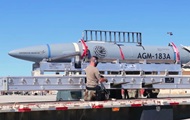 The Pentagon plans to allocate $11 billion to acquire a range of precision-guided weapons from industry.
The US Department of Defense plans to purchase 24 hypersonic missiles in fiscal year 2024. This is stated in background documents on the draft budget for the next fiscal year, which was released by the Pentagon on Monday, March 13.
In fiscal year 2024, the US agency planned to allocate $ 11 billion to acquire a number of precision-guided weapons from the national military-industrial complex.
The documents note that these investments "include the continued development, testing and procurement of hypersonic missiles and other long-range strike systems, large-scale development of prototypes of hypersonic weapons, and the acquisition of 24 hypersonic missiles."
Vice Admiral Sarah Joyner, spokesperson for the US Joint Chiefs of Staff, told a press briefing on Monday that the Pentagon expects to deploy hypersonic weapons on "air, land and sea platforms starting in the mid-2020s to maximize deterrence against opponent of equal strength.
As previously reported, the US share of global arms exports rose from 33% to 40%, while Russia's share fell from 22% to 16% between 2013-17 and 2018-22.

Ukraine ranks third in arms imports – SIPRI

News from Perild.com in Telegram. Subscribe to our channel