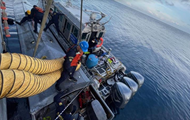 Law enforcement agencies managed to seize 2.5 tons of cocaine worth more than $87 million.
The Colombian Navy seized a makeshift submarine carrying two dead bodies and over 2.5 tons of drugs. This was reported on March 13 by Semana.
It is noted that a semi-submersible type submarine was discovered during operations to control and ensure the security of the Pacific maritime zone. She was carrying 2,643 kg of cocaine hydrochloride and bound for Central America.
The military noticed two people who were outside the submarine in a state of extreme weakness and, after being arrested, gave them first aid.
According to preliminary data, they were poisoned by poisonous gases formed due to a leak of fuel on the ship. In addition, two bodies were found inside the submarine.
"All the detainees, as well as drugs and the bodies of the dead, were taken to the village of Tumaco in the department of Nariño, where they were handed over to the relevant authorities … Thanks to the actions of law enforcement agencies, more than $ 87 million was prevented from entering the treasury of drug trafficking organizations," the Navy spokesman emphasized.
Earlier it was reported that about $316 million worth of cocaine was found off the coast of New Zealand, which was drifting in the ocean.

On the beach in Britain found a ton of cocaine

News from Perild.com in Telegram. Subscribe to our channel