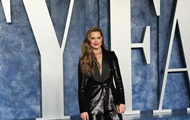 The Blue Lagoon star said she decided to share what happened to help other women "not feel alone."
American actress Brooke Shields admitted that more than 30 years ago she was sexually assaulted by a powerful man in Hollywood. It is reported by People.
According to her, this incident happened at the beginning of her career, when she had just graduated from Princeton University and could not find a job. After dinner with a man, he invited her to call a taxi from his hotel room. There he attacked her.
"It took me a long time to get over it. I'm more angry now than I was then. If you're scared, it's entirely legitimate. These are scary situations. They don't have to be violent to be scary. I didn't fight back. I just froze. Fight was not an option, so you just leave your body. You're not there. It wasn't," she revealed in the upcoming two-part documentary Brooke Shields: Pretty Baby.
Brooke Shields added that for a long time she blamed herself for what happened and has since learned to protect herself from scrutiny. She also said she only told one person about it, her close friend and security consultant Gavin de Becker.
It was previously reported that actress and Twitch streamer Grace Van Dien revealed why fans won't be seeing her in new TV projects anytime soon.

Star of the Hunger Games sexually assaulted

News from Perild.com in Telegram. Subscribe to our channel