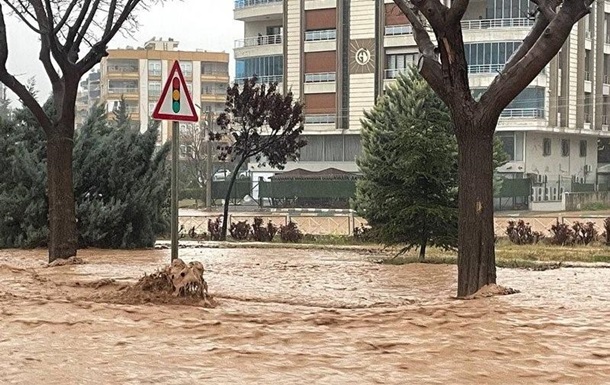 Photo: twitter.com/ilhamibingoll
Turkey hit by massive floods
In the south-east of the country, an orange (third of four) alert level has been declared. Water flooded large areas.
In the earthquake-hit provinces in southeastern Turkey, heavy rains caused severe flooding. According to the latest reports, five people have died and five are missing, according to the March 15 Daily Sabah.
Many cities and villages are flooded, roads have turned into rivers. Water blows away vehicles.
It is noted that one person was found dead in Adiyaman, four more died as a result of flooding in the center of Sanlıurfa.
The Turkish State Meteorological Service (TSMS) has published a weather forecast for March 14-20, declaring an orange (third of four) alert level for the southeastern part of the country.
Strong winds and showers are expected in the provinces of Adiyaman, Diyarbakir, Elazig, Malatya, Kahramanmaras, Mardin, Sivas, Sanliurfa and Kilis.
Local residents are sent SMS warning of bad weather.
Rescue teams have been dispatched to the disaster area.

#Sanliurfa It has surrendered to the biggest rain in its history. I've never seen anything like this until now. Do not go out unless absolutely necessary. God help us 🤲 pic.twitter.com/WNfUPbc16k

— Sanliurfa (@sanli_urfa63) March 15, 2023

📌#SanliurfaThere was a flood after the heavy rain in . pic.twitter.com/NOm4wRZgla

— 23 DEGREES (@yirmiucdegree) March 15, 2023
This is Urfa, which has been ruled by the AKP government for 20 years…..#earthquake #Urfa #sanliurfa #Adiyaman pic.twitter.com/mo5qNp641F

— kordⓔlya®️ (@KORDELYAz) March 15, 2023
May the conscience of your mercy sink!! You could have dropped the phone and saved it. #Sanliurfa #balikligol #sanliurfasel #urfa pic.twitter.com/TTSUaFTZzX

— GodKing (@MehmetPeyam1) March 15, 2023
Recall that since the beginning of February, Turkey has been shaken by tremors.
The strongest earthquake with a magnitude of more than seven points was recorded in the southeast of the country on February 6. They affected neighboring Syria and caused widespread destruction.
According to the latest data, the elements claimed the lives of more than 48 thousand people.

News from Perild.com in Telegram. Subscribe to our channel