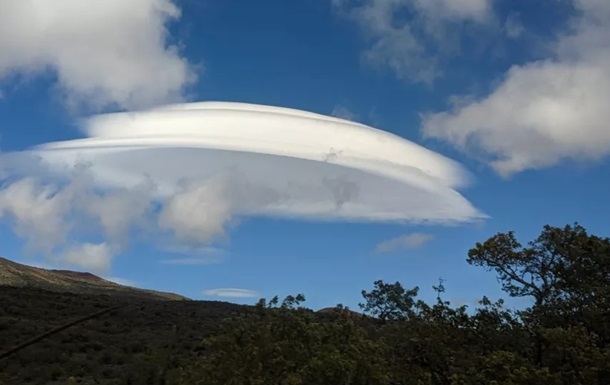 Фото: W. M. Keck Observatory
Cloud
Unusual clouds formed near Mauna Loa and Mauna Kea at an altitude of more than 3,960 meters due to strong winds.
In the sky over the volcanoes Mauna Kea and Mauna Loa in Hawaii, observers noticed clouds that looked like UFOs. It is reported by Space.
They were photographed from the observatory of V. M. Keck, located near the top of a dormant volcano. The images show lenticular clouds, which scientists say usually form on the lee side of a hill or mountain when strong winds blow over and around uneven terrain.
While lenticular clouds are common over the western United States mainland through the Rocky Mountains, they are relatively rare in Hawaii, according to the National Weather Service.
Earlier it was reported that NASA has begun independent research on unidentified flying objects (UFOs) and phenomena.

Residents of the United States were afraid of an unusual cloud that looks like a nuclear mushroom

News from Perild.com in Telegram. Subscribe to our channel