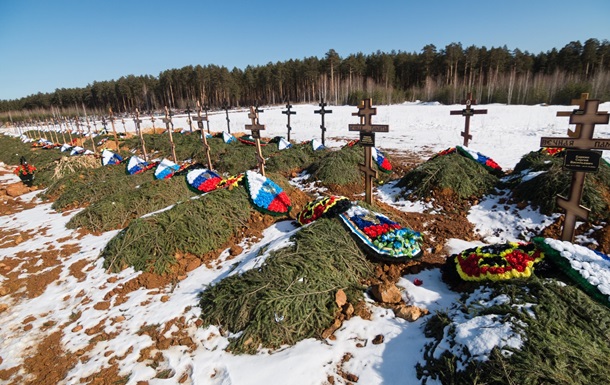 Photo: itsmycity.ru
Northern cemetery of the city of Berezovsky in the Sverdlovsk region
Since the beginning of the war, the death of 2092 people who were supposed to serve their sentences in Russian colonies has been established.
Over the past two weeks, journalists have learned about the death of more than 400 Russian prisoners in the war in Ukraine. This was announced on March 17 by the Russian Air Force Service.
"Judging by the obituaries, most of them were participants in the battles for Bakhmut. In total, the names of 2,092 prisoners of Russian colonies who died during the hostilities on the territory of Ukraine have been established," the article says.
It is noted that last week a new mass grave of people allegedly fought in the PMC was discovered. Wagner, near the city of Berezovsky in the Sverdlovsk region.
"Local residents saw 67 recently appeared graves. On each of them lay a black-red-yellow wreath depicting the emblem used by the PMC Wagner, as well as wreaths in the colors of the Russian flag with a double-headed eagle. In a video published by journalists of a local publication, it was possible to distinguish names on eight burials. At least four of those buried turned out to be full namesakes of prisoners who now have to serve their sentences, including for serious crimes.
In total, four places of mass graves of people who fought in the PMC were found Wagner: near Lugansk (37 graves), in the village of Fryanovo, Moscow Region (22 graves), in the village of Bakinskaya, Krasnodar Territory (422 graves) and near the town of Berezovsky (67 graves).
It is emphasized that the burial in the village of Bakuskaya is growing at the fastest pace: since December 2022, the number of graves has increased nine times (from 47 to 422).
According to the news service, the first three cemeteries were mainly used for the burial of dead prisoners. At the same time, the relatives of some of them did not know about the death and tried to find out something for several months.
As employees of one of the funeral services said, after death, PMCs search for relatives for three days, and if they cannot find them, they bury them where they were given a place in Russia.
In just almost 13 months of a full-scale war, journalists managed to establish the names of 17,375 dead Russian soldiers. A third of them were not connected with the army before the invasion – volunteers, mobilized, prisoners and newly recruited PMC employees.

Sent to war: in the Russian Federation, the number of convicts decreased a record

News from Perild.com in Telegram. Subscribe to our channel
tagsToTranslate Ukraine