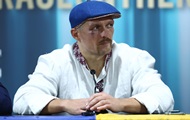 Egis Klimas demands respect for the Ukrainian team.
The manager of the WBC, WBO and IBF heavyweight champion of Ukrainian Oleksandr Usyk, Egis Klimas, said that the fight between his ward and WBC title holder Briton Tyson Fury may not take place.
According to the functionary, the British side does not respect the Ukrainian team, which means Usyk needs to protect himself. If the title fight does not take place, then Alexander will hold a mandatory defense.
"There is more Top Rank presence, but not too much. They treat Alexander the same way they treat Derek Chisora ​​or Dillian Whyte. They act like this is a regular Fury fight in the UK and everything should be by their rules.
Now we want to wait a bit as we are going to hire a lawyer who is good in UK law. We are outsiders, but we cannot swallow everything that is thrown at us. Enough is enough."
"If this fight takes place, then only on April 29th. If they want to reschedule it, we will move on to mandatory protection," Boxing Social quoted Klimas as saying.
Earlier it was reported that the wife of the Ukrainian boxer published a warning meme for Fury.