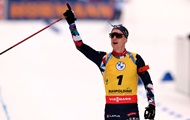 The legendary Norwegian scored a golden double with the support of his fans.
On Saturday, March 18, as part of the Biathlon World Cup stage in Holmenkollen, Norway, the men's pursuit race was held.
The winner of the race was the representative of Norway, Johannes Boe, who made one miss in four shootings. The Norwegian managed to get a golden double, showing the result – 32.34.0
The second place was taken by the Frenchman Quentin Fillon Maillet, who was seventh at the start. He managed to pass all the shooting cleanly, which allowed him to win silver.
The top three was closed by the Norwegian Sturla Legreyd, who started fifth. The biathlete was second for a long time, but at the last line he made a mistake, which cost him the second position. As a result, he came to the finish line third, almost 50 seconds behind the leader.
As for Ukrainian athletes, the best result was shown by Artem Prima. The biathlete came to the finish line in 37th place, almost four minutes behind.
Anton Dudchenko never missed, which allowed him to climb almost two dozen places higher. Bohdan Tsymbal started 44th but had five penalties, which affected his result, which deteriorated.
Pursuit results. Men
1. Johannes-Thingnes Be (0+0+1+0) 32:34.0
2. Canten Fillon-Maye (0+0+0+0+0) +32.7
3. Sturla Legrade (0+0+0+0+1) +49.1

…

37. Artem Prima (1+1+1+0) +3:49.9
39. Anton Dudchenko (0+0+0+0+0) +4:13.8
53. Bohdan Tsymbal (1+1+2+1+1) +5:42.4
Note that the women's sprint race will also take place today. The start is scheduled for 16:00. across Kyiv. Ukraine will be represented by: Elena Bilosiuk, Anastasia Merkushina, Yuliya Dzhima, Daria Blashko and Lyubov Kipyachenkova. Online broadcast of the race is available on ISPORT.ua.
Recall that the schedule and results of all races of the season are available on ISPORT.