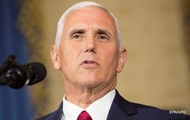 Former US Vice President Mike Pence and New Hampshire Governor Chris Sununu criticized the position of party members who propose to refuse military assistance to Ukraine.
A number of representatives of the Republican Party criticized fellow party member, Florida governor and possible presidential candidate Ron DeSantis because of his statement about the unimportance of the war in Ukraine for the United States, reports on Saturday, March 18, CNN.
Thus, former US Vice President Mike Pence and New Hampshire Governor Chris Sununu did not support the position of DeSantis, who called the invasion of Ukraine a "territorial dispute" and which does not represent a "vital" national interest for the United States. Pence reiterated that the war in Ukraine is not a "territorial dispute" but a Russian invasion.
"We must support our allies around the world to fight aggressive and dangerous regimes that threaten freedom wherever they are," Sununu said.
The governor of New Hampshire also said that the price the United States is paying today in Ukraine is far less than the price that could be faced if Russian dictator Vladimir Putin continues his "march to the West." This will threaten the sovereignty and security of NATO. Pence and Sununu also argue that support for Ukraine sends a clear message to China.
"When we think about our biggest and most important strategic issue, which is China, the best way to send a signal to China of its military ambitions is to see the free world stand strongly for the sovereignty of the people of Ukraine," Pence added.
In turn, Sununu added that some of his fellow Republicans "have lost their moral compass in foreign policy" and stressed that "as Republicans, we must uphold freedom, not give it up."
Earlier it was reported that former President Donald Trump is supported by the majority of US conservatives. He is well ahead of his nearest competitor DeSantis: 62% versus 20% among the participants in the Conservative Conference.
Not a penny for Kyiv? First Republican statement since victory

News from Perild.com in Telegram. Subscribe to our channel