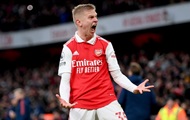 Journalists in Foggy Albion highly appreciated the talent of the Ukrainian.
The English publication FourFourTwo has published its list of the best left-backs in world football.
The Ukrainian Oleksandr Zinchenko also made the list, but he not only made it, but topped the list.
"It would seem that Mikel Arteta has taken Zinchenko in midfield, but Oleksandr has thrived as a left-back this season. Rebounding the ball from deep into the midfield, the Ukrainian is capable of dictating the game with great passes, as well as providing a solid base. from which Arsenal can defend.

His statistics are also misleading. With just one goal and two assists, it seems like he wasn't that important to Arsenal, but that's not the case. Zinchenko plays between the lines and perfectly delivers the ball to Martin Odegaard, who already passes them on to Gabriel Martinelli and Bukayo Saka. Without Zinchenko, there would be good reason to believe that Arsenal would not be in the position it is in now.
The top three included players from Manchester United and Milan – Luke Shaw and Theo Hernandez, respectively.
The best left-backs in the world
Oleksandr Zinchenko (Arsenal)

Luke Shaw (United)

Theo Hernandez (Milan)

Andrew Robertson (Liverpool)

Alphonso Davies (Bayern)

Nathan Ake (Man. City)

Ferland Mendy (Real)

Jordi Alba (Barcelona)

Nuno Mendes (PSG)

Ben Chilwell (Chelsea)
Recall that recently Zinchenko was recognized as the author of the most beautiful goal of Arsenal following the results of last month.