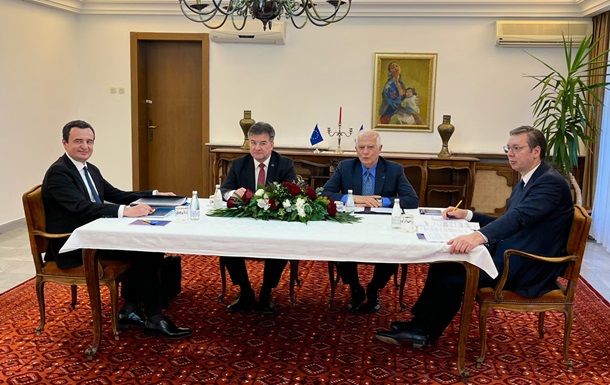 Albin Curti (left), Josep Borrell (third from left) and Alexander Vucic (right)
The leaders of both countries signed a corresponding agreement. The first step should be to grant the Serbs in Kosovo the right to self-government.
The head of EU diplomacy, Josep Borrell, said that Serbian President Aleksandar Vucic and Kosovo Prime Minister Albin Kurti agreed on an agreement on the normalization of relations between the two countries at the talks in North Macedonia. Borrell wrote about this in Twitter.
"Kosovo and Serbia have agreed on an implementation annex to the agreement on the sequence of actions to normalize relations. The parties are fully committed to comply with all articles of the agreement and fulfill their obligations promptly and in good faith," Borrell wrote.
He noted that the first step in the process of normalizing relations should be granting the Serbs in Kosovo the right to self-government.
Recall that in December last year, relations between Serbia and Kosovo deteriorated. Then the Kosovo special forces entered the territory of the municipality with a predominantly Serb population against the backdrop of the upcoming re-elections.
In response, the Serbian population blocked the roads in several settlements with barricades.

News from Perild.com in Telegram. Subscribe to our channel