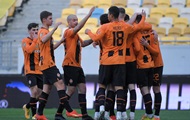 The Donetsk club got another three points without any problems.
On Sunday, March 19, within the framework of the 18th round of the UPL, Shakhtar met with Rukh. The victory in this match was won by a club from Donetsk with a score of 2:0.
At the 27th minute of the meeting, Nikolai Matvienko opened the opponent's gate, and after a couple of minutes Dmitry Kryskov doubled the advantage of his team.
In the second half of the meeting, Rukh seized the initiative in the match, taking possession of the ball and organizing a lot of chances at the gates of the Donetsk club, but the match ended in victory for the "moles".
Read also: So it was already: Shakhtar's player plays for the club, although he is injured for the national team
After 18 rounds, Shakhtar are in first place with 42 points, while Rukh is in 14th place with 17 points.
Statistics of the match of the championship of Ukraine Shakhtar – Rukh
Miner – Movement 2:0

Naked: Matvienko, 27, Kryskov, 31
Ball possession: 50% – 50%

blows: 10 – 7

shots on target: 2 – 3

attacks: 94 – 115
Miner: Trubin – Matvienko, Rakitsky (Mikhailichenko, 69), Bondar, Gocholeishvili (Konoplya, 46) – Stepanenko (Nazarina, 80) – Kryskiv, Sudakov, Bondarenko, Dzhurasek (Ocheretko, 66) – Kelsey (Traore, 46).
Movement: Pankyv – Lyakh, Slyubik, Kholod, Roman – Dovgyi – Solomon-Otabor, Edson (Talles, 46), Prytula, Alvarenga (Runych, 46) – Klimchuk.
Warnings: Edson, 14