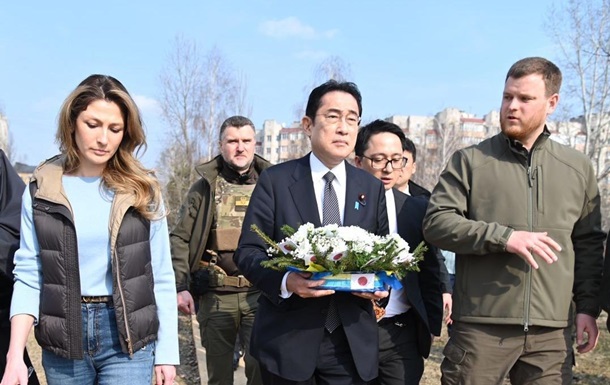 Japanese Prime Minister Fumio Kishida in Bucha
Fumio Kishida was outraged by the cruelty of the Russian troops during the occupation of the city.
Japanese Prime Minister Fumio Kishida during his visit to Ukraine visited Bucha, which suffered from the atrocities of the Russian invaders. This was reported on March 21 by the Kyodo News agency.
Kishida was accompanied by First Deputy Minister of Foreign Affairs of Ukraine Emine Dzhaparova and Japanese Ambassador to Ukraine Matsuda Kuninori.
He laid flowers near the church where civilians killed by the Russians were buried.
"I am outraged by this cruelty. On behalf of the nation, I would like to express condolences to those who died," the prime minister said.
The politician also assured that Japan would continue to make every effort to support Ukraine in restoring peace.
Earlier it was reported that on Tuesday Kisida arrived in Kyiv to hold talks with Ukrainian President Volodymyr Zelensky.

Black days. The bloodiest war crimes of the Russian Federation. 18+

News from Perild.com in Telegram. Subscribe to our channel