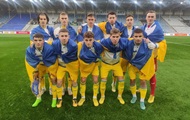 The team of Sergei Nagornyak failed to get an important victory at the start of the qualification for the continental championship.
The opening match of the elite qualifying round for the 2023 UEFA European Under-19 Football Championship took place, where Ukraine met Luxembourg.
Our team under the leadership of Sergei Nagornyak successfully started the match, scoring with the efforts of Igor Gorbach already in the 12th minute, but could not keep the advantage, conceding minutes later.
The second goal against Ukraine was scored in the second half. The author of the double was Leon Elshan.
Already in stoppage time, the teams exchanged removals. As part of the "blue-yellow" Daniil Udod received a red card, and Ayman Dardari was removed from the opponent.
Ukraine U-19 – Luxembourg U-19 1:2
Naked: Gorbach, 12 – Elshan, 17, 59
Removal: Udod, 90+2 – Dardari, 90+4