If arrested, Trump would be the first ex-president to face felony charges.

Donald Trump is expecting a possible arrest this week on charges of financial impropriety. We are talking about the payment in 2016 of 130 thousand dollars to porn star Stormy Daniels for her silence about her alleged love affair with the future president. If arrested, Trump would be the first ex-president to face felony charges.

The essence of the accusations
The story began in 2006, long before Trump became president. According to porn star Stormy Daniels, they then had a spontaneous intimacy with Trump (which Trump has always categorically denied), and in October 2016, a month before Trump's victory in the presidential election, Michael Cohen, the lawyer of the future president, paid the actress 130 thousand dollars. This amount was allegedly part of the agreement reached, according to which the actress undertook not to discuss this case in the press and in general in public.
And while the fact of payment is not a violation, when Trump reimbursed his lawyer for the money spent, it was documented as a payment for legal costs.
And this can already be considered as forgery or falsification of financial documents by Trump, that is, a criminal offense.

Progress of the investigation
The decision on whether to file charges against Trump is up to Manhattan District Attorney Alvin Bragg.
It was he who convened the special grand jury to find out whether there were sufficient grounds for opening a criminal case, and only he knows whether an arrest warrant will be issued, and if so, when.
Last week, Trump's lawyers reported that the ex-president was given the opportunity to appear before a grand jury, which can be considered a sign that the investigation is nearing its finale.
Lawyers went out of their way to make it clear that neither they nor Trump himself received any advance notice of the impending arrest, stressing that Trump's own claims that it was supposed to happen on Tuesday were based solely on press reports.

Mandatory Procedures
Given the historical significance of the possible arrest and security concerns, the details of Trump's appearance in New York court will be hidden until the last moment.
His lawyers have already made it clear that their client is ready to cooperate with the investigation, so one should not expect a classic detention with flashing lights and handcuffs.
Trump has his own plane, so he can arrive at any of the airports in New York, and from there by car go to the Manhattan courthouse.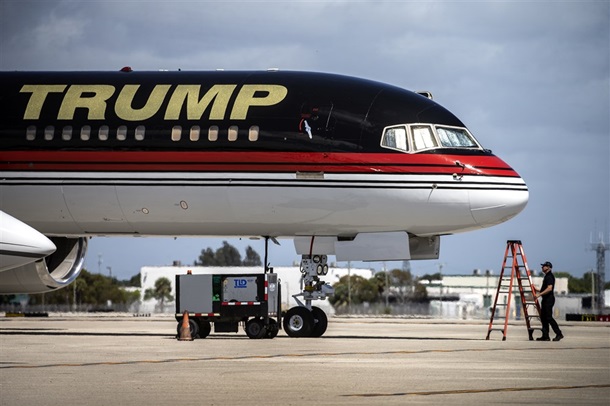 EPA
As part of an agreement with prosecutors, the court may allow Trump to enter the court through the back entrance, rather than defile in front of a line of journalists, as is usually the case with defendants.
Well, then he is still expected by the standard procedures in such cases for those accused of criminal offenses – fingerprinting and photographs in profile and full face for the case. He will also be read the so-called Miranda Rule, a mandatory notice of rights upon arrest, including the constitutional right to a lawyer and the right not to tell the police anything so as not to incriminate oneself.
Defendants who are indicted are usually temporarily handcuffed, but Trump's lawyers are likely to try to make sure he avoids that inconvenience.
All this time, intelligence agents will be inseparably near Trump.
Before appearing in court, Trump will be in a special room or even a cell for some time.
The very moment of arraignment and the appeal of the defendant to the court will take place already in public.
If Trump is found guilty of a criminal offense, then the maximum that he can face is 4 years in prison, although experts agree that he is unlikely to go to jail and is likely to get off with a fine.
The possible arrest of Trump will not prevent him from running again for the presidency.