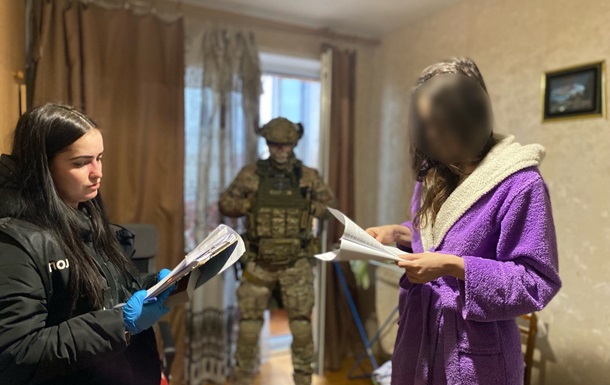 Photo: Kyiv Region Police
The woman was informed of the suspicion, now she is in jail
Law enforcers found that the suspect was sending bottles of alcohol with thallium to her "enemies".
The police arrested a resident of the Kyiv region, who is suspected of poisoning her lovers. This was reported by the Communications Department of the Kyiv Region Police on Friday, March 24.
Andrey Nebitov, the head of the Kiev region police, said that on February 14, on Valentine's Day, one of the victims received a message in a messenger from an unknown number stating that his phone number took part in the drawing and he allegedly won the corresponding prize.
"After a few days, he really received a bottle of rum, which he gradually began to use, and three chocolates. After a while, he became ill and went to the hospital," the head of police said.
Similar cases of poisoning were recorded in the Fastov hospital – in four women.
"On February 2, I had Angel Day, and I decided to invite my friends to celebrate. We drank a bottle of rum, which I won in the drawing the day before. After a few days, everything became bad for us. It started to burn in my chest and my body went numb. My friend and I left for Kiev , and we were put in intensive care. Hair began to fall out in tufts, "said one of the victims.
In addition, it later became known that the man died from poisoning. The result of a laboratory test determined that he had been poisoned with thallium.
Law enforcement officers established that a woman carried out the delivery of poisonous bottles of rum by courier.
As a result, law enforcement officers learned more information about the woman who is suspected of poisoning. In particular, 20 years ago she lived in the Ivankovsky district and had a relationship with a deceased man, but family life did not work out.
The man of one of the four poisoned victims also had a relationship with the suspect. Last August, she already tried to poison him in this way, but the concentration of the dose of thallium was probably low. In January of this year, his wife received a dangerous parcel.
The police arrested the woman and placed her in a temporary detention center. She is charged with premeditated murder.
The police are also investigating her involvement in similar crimes.
We will remind, near Kiev there was a murder: the body of the victim was found in the lake
Man sentenced to 13 years for raping and beating pensioner to death

News from Perild.com in Telegram. Subscribe to our channel