Photo: twitter.com/block_gas
Protests against the European Gas Conference take place in Vienna
Eco-activists are trying to disrupt the European Gas Conference and demand to stop making decisions that are detrimental to the climate.
On March 27, rallies against the European Gas Conference are held in Vienna. Environmental activists tried to disperse the police, according to Wien ORF.
It is noted that on Monday morning, several hundred protesters gathered in the city center.
Some of them blocked one of the streets, arranging a sit-in demonstration. Others in colorful wigs and costumes carried lengths of a large pipe in their hands.

Today marks the beginning of the end of this fossil gas madness. This must be the last European Gas Conference! We will reclaim the power! #BlockGas #EndGas #w2703 6/6 pic.twitter.com/QqF8LVTXMg


— Block Gas Alliance (@block_gas) March 27, 2023
In addition, activists have gathered on the main street of the city with posters calling for the conference to be blocked and a huge structure that looks like a gas pipe, on which is written "the last winter of gas."
Unauthorized protest led to traffic jams, the police tried to disperse it. During the clashes, about 50 activists were blocked by barriers. There is information about arrests.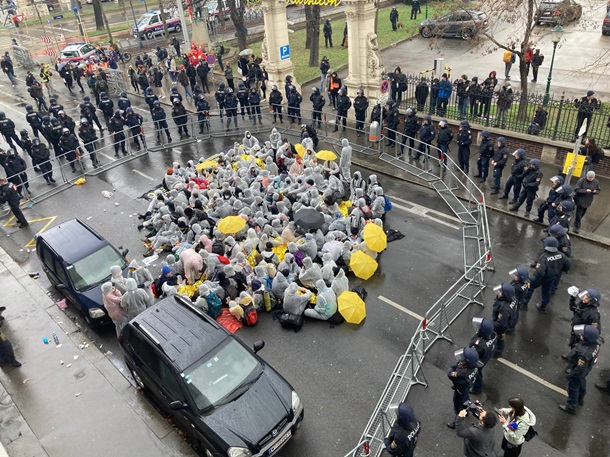 Photo: twitter.com/block_gas
The organizer of the action is Block Gas Alliance. It is noted that some of the demonstrators came from abroad.
"The fossil fuel lobby is making record profits from the crisis we are all suffering from. That is why we are protesting against the European Gas Conference, where new mining projects are being prepared behind closed doors," the organization stressed.
Instead of "destructive projects" in Africa, Eastern Europe and around the world, activists are demanding "local, renewable and fair energy systems."
Protests are also scheduled on March 28 and 29, with a major demonstration on Tuesday at 5:30 pm.

The fossil fuel lobby makes record profits of the cost of living crisis the we are all affected by. This is why we are protesting against the #EuropeanGasConferencewhere they are preparing new fossil projects behind closed doors. #w2703 #blockgas #end gas 1/3 pic.twitter.com/TmsnRmkCKl


— Block Gas Alliance (@block_gas) March 27, 2023
The European Gas Conference is a private event that has been held in Vienna for over 15 years.
This year the entrance ticket cost from 3899 to 5099 euros. The agenda includes discussion of the security of gas supplies and the new role of LNG on the continent, as well as the development of a hydrogen economy.
In addition to the protests, a stir was caused by the fact that a number of journalists, including major media outlets, were unable to obtain accreditation for the conference.
Recall, on January 17, environmental activist Greta Thunberg, who participated in a protest against the expansion of a coal pit near the abandoned village of Lutzerath, was temporarily detained in Germany.

German police raided the homes of environmental activists

News from Perild.com in Telegram. Subscribe to our channel