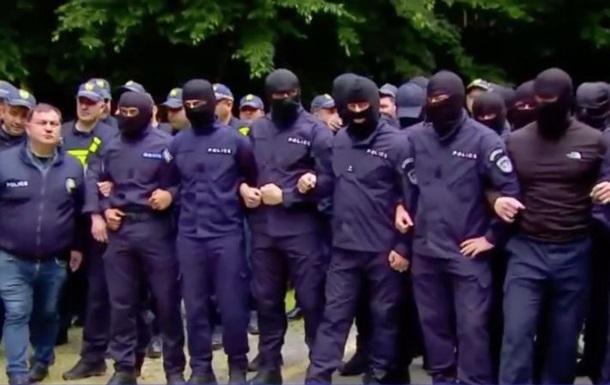 Photo: News Georgia
Currently, 16 protesters are known to have been detained
Irakli Kobakhidze, the leader of Georgia's ruling party, called the protests against direct flights to Russia and protests over the arrival of Lavrov's daughter "xenophobic".
Clashes broke out in eastern Georgia over the arrival of the daughter of Russian Foreign Minister Sergei Lavrov to the country. This was reported by the local edition of News Georgia on Saturday, May 20.
It is indicated that the clashes between the police and the protesters took place near the Kvareli Lake Resort hotel in Kakheti. The protesters say that it is there that the daughter of the Russian Foreign Minister Ekaterina Vinokurova (Lavrova), who came to the wedding of one of the family members, is located.
One of the leaders of the United National Movement, Levan Bezhashvili, said that the protesters were not going to disperse, the picketing would continue at night. "We will not allow Georgia to be turned into a holiday village for the Lavrov family," he said.
So far, 16 protesters have been detained.
In turn, the leader of the ruling party of Georgia, Irakli Kobakhidze, called "xenophobia" the actions against direct flights to Russia and today's protests due to the arrival of Lavrov's daughter.
"This is an offshoot of the liberal fascist agitation and I urge everyone to refrain. There is no place for xenophobia in Georgia," Kobakhidze said.
He suggested that the protesters want to disrupt the tourist season, and also expressed the thesis of a "second front".
Regarding reports that Sergey Lavrov's daughter and other family members are visiting Georgia, Kobakhidze said he relies on information from the hotel, which said they were apparently not on site. At the same time, it is known that earlier the brother of the Russian businessman Alexander Vinokurov, who is the son-in-law of the head of the Russian Foreign Ministry, previously signed with his chosen one in Tbilisi.
Recall, on May 10, Russian President Vladimir Putin signed a decree allowing Georgian citizens to visit Russia without issuing visas for up to 90 days. In addition, he lifted the ban on flights by Russian airlines and the sale of tours to Georgia.
Already on May 19, the first direct Moscow-Tbilisi flight in four years landed at the Georgian Shota Rustaveli airport. He was greeted with a protest. And Georgian President Salome Zurabishvili published a post on Twitter with the hashtag "No flights from Russia."
---

News from Perild.com in Telegram. Subscribe to our channel