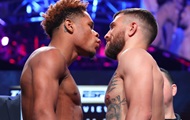 Boxers attended an official event before the fight.
Former three-division world champion Vasily Lomachenko will face undisputed lightweight champion Devin Haney.
On the eve of the fight, a weigh-in ceremony took place, at which the boxers showed different weights.
Read also: "Slowly killing you": Ex-rival Lomachenko left a warning to Haney
The 24-year-old American turned out to be lighter than an athlete with a Ukrainian passport.
Weighing results:
Devin Haney – 60.8 kg

Vasily Lomachenko – 61.2 kg
Note that initially the boxers weighed in behind closed doors. Then the American had to undress to meet the weight.
Recall that the fight between Devin Haney and Vasily Lomachenko will take place on May 20 at the MGM Grand in Las Vegas, Nevada, USA.
Earlier it was reported that the promotion company will show the Lomachenko-Haney fight for Ukrainians for free.