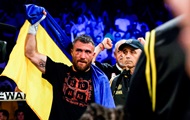 The boxer from Ukraine lost to the absolute champion by unanimous decision.
Vasily Lomachenko immediately after the fight commented on his defeat to the undisputed champion of the lightweight division Devin Haney.
The boxer with a Ukrainian passport did not want to discuss the merit of his opponent's victory, but hinted at the controversy of such a referee's decision.
"Firstly, I want to thank my god Jesus Christ. Secondly, I thank my team: father, manager, cutman, my family, my friends. And you for coming to support us. Thank you very much.
Read also: Religion against the skeleton: Lomachenko and Haney entered the ring without pathos
Do I feel that I deserve to be the undisputed champion? I do not want to talk about it. Everyone saw what happened today. I think I showed that I can stay in boxing, I'm in good shape. See you next time.
My dream of becoming an undisputed champion was stolen from me? I can't talk about it. It's just an awkward moment. Everything was within the rules, everything was clean.
Before the fight, I thought Haney would be better. He is a top, good boxer, but not a pound-for-pound fighter," Lomachenko said.
Recall that Haney defeated Lomachenko by unanimous decision with a score of 116-112, 115-113, 115-113.