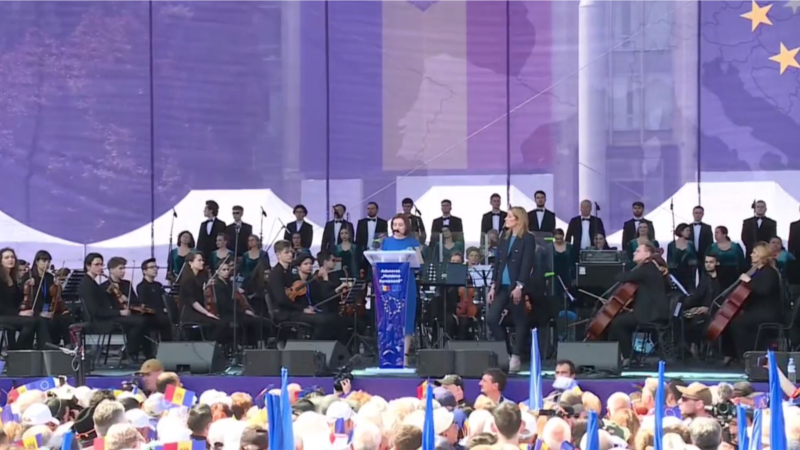 In Chisinau, on the Great National Assembly Square, a rally is being held in support of Moldova's European integration. It was convened by the country's President Maia Sandu.
She said at the rally that Moldova should join the EU in the next 7 years – until 2030, the Moldovan service of Radio Liberty reports.
"Today, May 21, 2023, we have gathered here again as a whole nation to say with one voice that Moldovans are Europeans and that in seven years we must become members of the EU," Sandu said.
The President spoke about the obstacles that prevented the country from following the European path. According to Sandu, Moldova will finally be safe after joining the EU.
"This war shows us that we no longer want the Kremlin to blackmail us," the President of Moldova stressed.
Maia Sandu asks the citizens of the country to focus on what unites them, namely the desire to live in the EU, regardless of language or religion. She also addressed the audience in Russian, Ukrainian and Gagauz, arguing that European integration is a guarantee of the rights of national minorities.
President of the European Parliament Roberta Metsola also spoke at the rally. "Choose Europe and Europe will welcome you with open arms and open hearts," she stressed.
Metsola praised Moldova's courage in "defying" Russian threats and accepting hundreds of thousands of refugees from Ukraine.
Meanwhile, in the capital of the Moldovan autonomy of Gagauzia, Comrat, an alternative rally is taking place, at which fugitive oligarch Ilan Shor, sentenced in Moldova to 15 years, spoke. He continues to promise "Great Moldova" from Israel, arguing that the country will "rise from its knees" without anyone's help.