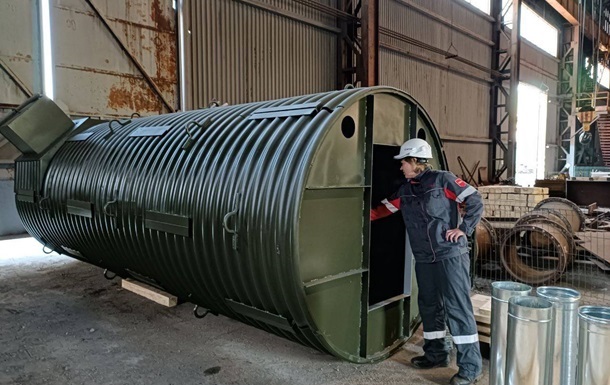 Photo: Metinvest
It takes about two tons of steel to produce one shelter.
The company is engaged in several projects to armor armored personnel carriers, Hummers and other vehicles and donates thousands of units of other assistance to the army.
Since the beginning of the war, the needs of the Armed Forces of Ukraine, which the whole world helps Ukrainians, have changed significantly. Oleksandr Mironenko, COO of Metinvest, whose company has been volunteering for the defenders of Ukraine since the first days of the war, spoke about this on the air of the Direct TV channel.
According to him, at first the company launched its own production of body armor, and now it produces modular shelters and special armor for vehicles.
"We have organized production at our production sites. These are mobile shelters that can be used on the front line as dugouts: they dig underground, take cover with forest, earth, and this is a very reliable protection. I was at the positions of the guys when we checked, how it all works, and they spoke very well about these shelters. We also produce bulletproof vests: we made bulletproof steel at our enterprises, and now more than 150,000 bulletproof vests made of steel from Metinvest help our defenders," says Mironenko.
The company is also engaged in several projects together with the army team for armoring armored personnel carriers, Hummers and other vehicles.
"We produce steel, and the military already assembles these structures directly on equipment at their sites," he explained.
According to Mironenko, during the war, the purchases of equipment for soldiers also changed significantly: if at first they were supplied with first-aid kits, drones and EcoFlow charging stations, then military personnel ask for anti-drone guns and night vision sights.
"We bought and donated more than 1,500 drones. We also buy thermal imagers, EcoFlow – all this help and all other things go, I can say, in thousands of units to the army. But now the emphasis on purchased items has also changed a bit: now we need more anti-drones guns, complexes that jam radio communications in order to land all these flying drones. We are also now buying and donating equipment for assault operations – night vision devices, night sights," Mironenko said.