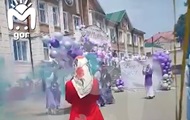 The balls exploded from the spark and fairly frightened everyone. No one was reportedly injured in the explosion.
The last bell at a Chechen school ended with an explosion of helium balloons. This is reported by the Russian TG channel Mash Gor.
"The school year in secondary school No. 2 in the village of Alleroy was seen off with songs, dances and unexpected special effects. The balls exploded from a spark and notably frightened everyone. Fortunately, no one was hurt," the message says.