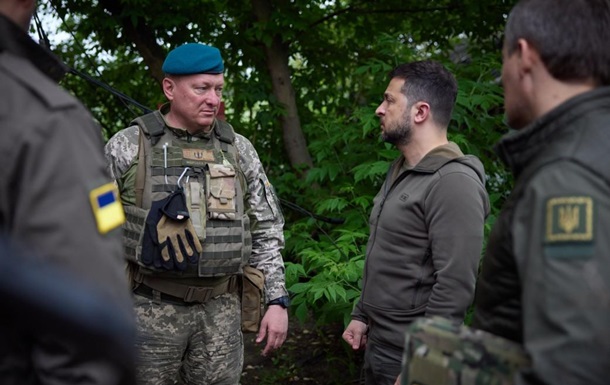 Photo: Press Service of the President of Ukraine
The President listened to the report of the Commander of the Marine Corps and the UTG Donetsk, Lieutenant-General Yuriy Sodol
New marine brigades will be formed in Ukraine, which will be equipped with modern equipment and weapons, the President said.
President Volodymyr Zelenskyy visited the forward positions of the Armed Forces of Ukraine in the Vuhledar-Maryinka defense zone in the Donetsk region and spoke about the further strengthening of the marines. This was reported by the press service of the head of state on Tuesday, May 23.
It was noted that the President heard a report from the Commander of the Marine Corps and the UTG Donetsk, Lieutenant-General Yuriy Sodol, regarding the current situation on a certain sector of the front.
Zelensky talked to the soldiers and took part in the celebrations on the occasion of the Marine Corps Day.
Every day on the battlefield, the Ukrainian marines prove that they are a powerful force that destroys the enemy, liberates Ukrainian lands, and performs the most difficult tasks in the most difficult conditions. And we need more of that power. Therefore, from today we are significantly increasing the potential of the Marine Corps and creating the Marine Corps, the President said.
As Volodymyr Zelenskyy said, new brigades equipped with modern equipment and weapons will be formed.
The President also presented state awards. He awarded the title of Hero of Ukraine and awarded the Order of the Gold Star to Colonel Yuriy Andrienko and Colonel Nikolai Palas.
Also, Zelensky awarded the marines with the orders of Bohdan Khmelnytsky I, II and III degrees, For Courage II and III degrees, Princess Olga III degree and the Order of Daniil Halytsky.
In addition, the head of state presented an award from the President of Ukraine For Courage and Courage to the Command of the Marine Corps of the Naval Forces of the Armed Forces of Ukraine, the 35th Separate Marine Brigade named after Rear Admiral Mikhail Ostrogradsky and its units: the 18th Separate Battalion and the 137th Separate Battalion, as well as the 406th th separate artillery brigade named after General Cornet Aleksey Almazov and the 140th separate reconnaissance battalion.
Zelensky also awarded the military rank of brigadier general to the chief of staff – deputy commander of the Marine Corps of the Naval Forces of the Armed Forces of Ukraine, Colonel Aleksey Androsov.
At the end of the event, the Marines presented the President with their flag, a commemorative plaque and chevrons of all units of the Marine Corps.
Earlier, the president congratulated the Ukrainian marines on the holiday. The enemy feels the power of Ukrainian soldiers prepared for actions on land, from the sea and from the air, the head of state stressed.
Recall that from 2014 to 2017, Marine Corps Day in Ukraine was celebrated on November 16. In 2018, its date was moved to May 23. On this day, the foundation of the modern Marine Corps was laid, which is now heroically defending Ukraine from Russian invaders.
---

News from Perild.com in Telegram. Subscribe to our channel