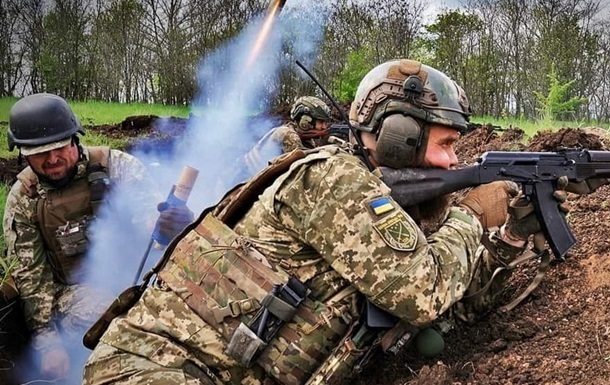 Photo: General Staff of the Armed Forces / Facebook
Ukrainian Armed Forces hold a small foothold in Bakhmut
Cherevaty said that during the week, the soldiers of the Armed Forces of Ukraine managed to advance up to two kilometers.
The Ukrainian military is holding a small foothold in Bakhmut itself, Donetsk region. Also in the Armed Forces of Ukraine there is an advance along the flanks. This was stated by the speaker of the Eastern Group of Forces of the Armed Forces of Ukraine, Colonel Serhiy Cherevaty in an interview with RBC-Ukraine.
"General Syrsky professes the principle of active defense. We have no advantage there either in the number of personnel or in equipment. But where there is an opportunity, where, thanks to our composure, correct tactical formation, the use of combined Western and Soviet weapons, we carry out counterattacks and move" , he said.
According to Cherevaty, during the week the Armed Forces of Ukraine managed to move up to two kilometers.
"Over the past 24 hours (the conversation was on May 22 – ed.) in different areas we have advanced from 250 to 400 meters. This is not much. But this allows us to occupy dominant heights in order to better defeat the enemy grouping in Bakhmut," the colonel said .
According to Cherevaty, the Armed Forces of Ukraine keep a number of buildings in Bakhmut, and our military still have fortifications, trenches, strongholds there, including in the southwestern part of the city. We are talking about the "Airplane" area.
"I can't say in detail. This is a small bridgehead that we hold to prevent the Russians from completely taking the city. And there is an opportunity to deliver ammunition and everything necessary for defense," said a representative of the Eastern Group of Forces of the Armed Forces of Ukraine.
Cherevaty added that the Ukrainian military command, unlike the occupiers, does not invent "any legends that this is a big offensive, etc.", because "this is taking place as part of a successful defense operation in the Bakhmut direction."
"Why is it successful? Because we have achieved the main goals. We did not let them break through, break our battle formations, destroy our warring group, encircle it. And besides, we inflicted enormous losses on them," Cherevaty said.
Earlier, the Ministry of Defense reported that the Russian army failed to surround Bakhmut in the Donetsk region, it lost part of the dominant heights around the city.
The NYT edition showed Bakhmut from a bird's eye view.
---

News from Perild.com in Telegram. Subscribe to our channel