Issues of separate compartments or wagons for women are raised from time to time in Ukrainian society. However, this topic received wide publicity in early May – after the publication of a girl on Twitter, who was outraged because of the three men in the compartment as companions. In the comments, women began to share their cases of sexual violence on trains, and men complain that they are perceived stereotypically. What is known about the scandal and what decision was made by Ukrzaliznytsia, read in the story Perild.com.
In early May, a blogger with the nickname @Unamanunaa wrote a post in which she said that three men became her companions in the compartment, because of this she felt uncomfortable. As a result, the girl asked the conductor to transfer her to another compartment.
The post gained unexpected publicity among other users. In particular, women and girls began to talk about their unpleasant stories that happened to them on trains.
Ukrainian women also remembered the high-profile incident that occurred in the summer of 2020. Then, on the train Mariupol – Kyiv, a man severely beat Anastasia Lugovaya and tried to rape her. According to her, that night she was leaving with a child in a compartment. Anastasia woke up from strong blows to the head. First, an unknown person severely beat her, and then tried to rape her. He was detained by the police, who were called by the husband of the victim. After this incident, the public also called on Ukrzaliznytsia to create specialized women's compartments or wagons, but this never happened.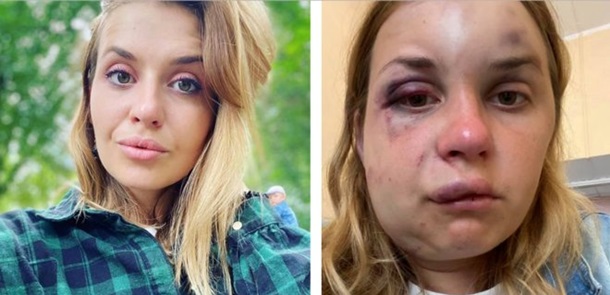 facebook.com/anastaisha.lygova
This time, the case did not just end with a discussion on social networks, but a corresponding petition was registered on the website of the Cabinet of Ministers.
"We ask you to allocate at least one separate carriage for women and, accordingly, a separate carriage for men in all trains of JSC Ukrzaliznytsia, following the route for more than 6 hours," the email says.
The petition was registered on May 15 and now it has received more than 23,000 votes out of the 26,000 required for consideration.

What they say in Ukrzaliznytsia
After wide publicity and registration of the petition, Ukrzaliznytsia announced that it would create women's compartments in trains. Currently, the company is developing IT solutions and will make appropriate changes to the regulations. UZ also consults with lawyers, international and Ukrainian public organizations.
According to the chairman of the board of Ukrzaliznytsia Yevgeny Lyashchenko, women, trans women, mothers with children under six years of any gender will be allowed to enter such women's compartments. It has not yet been precisely determined on which routes to wait for women's compartments, but these will be long-distance routes, the passengers of which spend a lot of time on the road.
It will be possible to buy a ticket to the women's compartment through the Ukrzaliznytsia app. This feature will be included in one of its next releases. You don't have to pay extra for a women's compartment.
"The safety of Ukrainians – regardless of gender – is our fundamental priority, especially during a full-scale war … Therefore, the current decision of the railway is to help women feel more comfortable and safer through a set of measures, one of which will be a "pilot" with women's compartments. We will we will test them for several months and, together with the public and specialists, we will make a decision on scaling. This will depend on real demand and feedback," Lyashchenko said.

Why are men offended?
Despite the fact that Ukrainian women raised issues of their own security and talk about specific episodes of claims, some men were offended by such an initiative.
So on Twitter, under the @Unamanunaa post, you can see a lot of comments where citizens claim that they are perceived stereotypically and that not all of them are rapists. Another part of the men generally suggest that women use only personal transport or travel with accompanying persons.
In turn, journalist Svyatoslav Khomenko told about an unpleasant story that happened to him on the train Lviv-Kyiv. His fellow traveler, in a state of intoxication, tried to attract the attention of Svyatoslav, but subsequently the woman vomited on his shoes and a blanket.
According to the journalist, the conductor cleaned his shoes and the compartment itself with a rag. The man was transferred to another car and asked for forgiveness, unlike his fellow traveler.
"That's what I'm all for. To the fact that I probably also have the moral right to speak out in an epoch-making srach about cars. I perfectly understand that in the place of my fellow traveler there could well be a fellow traveler. And that different things happen in life. So "I'm not against women's carriages – but only as long as it does not affect my rights as a passenger. For example, if I can't get on the train because there are only tickets left for women's carriages, then I'm sorry, I don't subscribe to this," the man wrote on Facebook.
But, on the other hand, Svyatoslav believes that comfort and safety for everyone can be achieved if you simply follow the rules: if Ukrzaliznytsia does not allow drunk people on the train, prohibits drinking alcoholic beverages, and also considers a trip by rail a mass event and allocates for she was escorted by a police squad.
"But we are Ukrainians. We don't like to reform institutions, we'd rather draw a pink circle on some cars and assume that this will solve the problem dramatically. Therefore, my condolences and support to Ukrzaliznytsia. I know you can handle it," he added.

News from Perild.com in Telegram. Subscribe to our channel