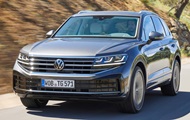 The car was updated on the outside and received new settings. The crossover is offered in gasoline, diesel and hybrid versions, with a capacity of up to 462 hp. With.
In Germany, introduced the new Volkswagen Touareg. Its cost – from 69,200 euros, according to the official website of Volkswagen.
The 2024 Volkswagen Touareg has a redesigned front end. The car has new matrix headlights, an enlarged grille and an air intake in the bumper.
Lanterns occupy the width of the body. The brand logo and the front molding between the headlights are illuminated by diodes.
Also, the car received new rims with a diameter of 19 to 22 inches.
Salon Volkswagen Touareg in 2024 has not changed. Just got a better finish. Also, the virtual instrument panel and multimedia system have been upgraded – wireless Apple CarPlay and Android Auto have appeared.
The engines of the 2024 Volkswagen Touareg remain the same as they were – all versions of the model are equipped with a three-liter turbocharged V6. The petrol engine develops 340 hp. s., and turbodiesels – 231 and 286 liters. With.