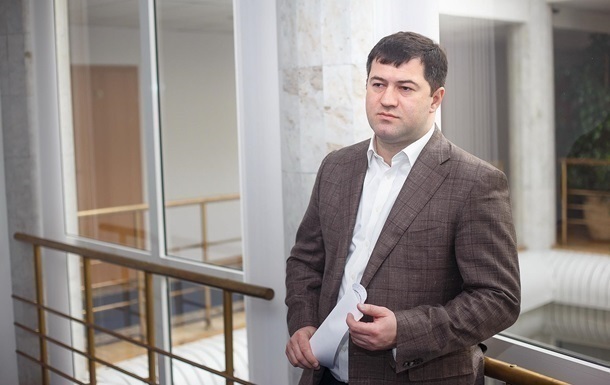 Photo: sfs.gov.ua
Nasirov's case on the largest bribe in the history of Ukraine was sent to the VAKS
The case of the ex-chairman of the State Fiscal Service Roman Nasirov and his adviser was sent to court.
The case of 21 million euros and 5.5 million dollars in bribes for the former head of the State Fiscal Service Roman Nasirov and his adviser has been sent to the High Anti-Corruption Court for consideration on the merits. This was reported by the press services of NABU and SAPO.
This is the largest amount in history documented by law enforcement officers (over 722 million hryvnias).
Nasirov is accused of receiving unlawful benefits for VAT refunds in the interests of agricultural holding companies (Ukrlandfarming Oleg Bakhmatyuk – ed.).
It was established that during 2015-2016 the head of the State Fiscal Service received more than 722 million hryvnias of bribes for his own benefit and for the benefit of third parties for actions related to the provision of VAT refunds to legal entities controlled by the owner of the agricultural holding in the amount of more than 3.2 billion hryvnias.
The investigation established that the provision of illegal benefits in foreign currency took place using a number of companies registered abroad, owned by the owner of one of the agricultural holdings, and its receipt by an official – using non-resident enterprises, control over the activities of which was carried out directly by Nasirov, his adviser and his relatives.
Other intermediary enterprises registered outside of Ukraine were attracted to transfer funds. At the same time, part of the funds was formed directly from the funds of the budgetary VAT refund, convertible into foreign currency.
At the same time, the SAP reported that the materials regarding the owner of the agricultural holding were separated into a separate proceeding, in which the defense side gets acquainted with the materials of the pre-trial investigation. Law enforcement officers do not give his name, but we are talking about Oleg Bakhmatyuk. On March 8, the court arrested him in absentia.
Recall that in October 2022, Nasirov, his adviser, as well as Bakhmatyuk were informed of a suspicion in the VAT refund case. The former chairman of the State Fiscal Service was given a measure of restraint in the form of detention with the alternative of making a bail in the amount of 523 million hryvnias.
tagsToTranslate