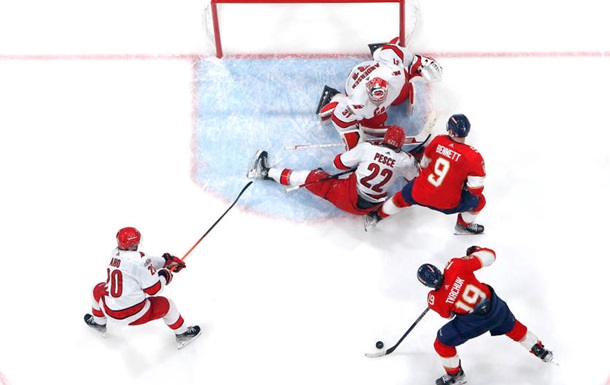 Photo: Getty Images
Carolina failed to keep Florida
The Panthers easily defeated the Carolinas in the playoff semi-finals, winning every game in the series.
The sensation continues. Florida won the Eastern Conference and advanced to the Stanley Cup Finals. In 1/2 "Panthers" unexpectedly easily dealt with Carolina. The Hurricanes failed to win at least one match in the series, losing 0-4 in the confrontation.
In the last game, Florida defeated the opponent at home with a score of 4:3. Recall that the "Panthers" entered the playoffs from the last, eighth place, and on the way to the final, alternately defeated the first, fourth and second teams of the conference.

NHL. Playoffs. May 25
Florida – Carolina – 4:3 (2:1, 1:1, 1:1)
1:0 – 1 Duclair (Verhege, Barkov)
2:0 – 10 Tkachak (Forsling, Ekblad)
2:1 – 13 Stastny (Martinuk, Shay)
2:2 – 22 Teriavainen (Kotkaniemi, Shay)
3:2 – 29 Lomberg (E.Staal, White)
3:3 – 56 Fast (Chetfield, Martinook)
4:3 – 59 Tkachak (Reinhart, Barkov)
Series score: 4-0

News from Perild.com in Telegram. Subscribe to our channel