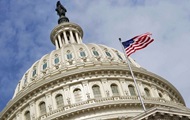 US bipartisans believe that presidential powers are sufficient to effect such a confiscation.
A group of US congressmen wrote an open letter to US President Joe Biden, urging him to use his powers to confiscate the assets of the Russian central bank and immediately provide them to Ukraine. The letter was signed by legislators from both leading US parties, Voice of America reports on Wednesday, May 24.
In their letter, the US lawmakers stressed that asset forfeiture should take place within the framework of international norms.
"The Russian bloody and unprovoked war against Ukraine is the biggest threat to the international legal order since World War II," the letter says. "Working within the international legal order, our own Constitution and laws, the United States must be the leader in condemning Russian aggression, securing strong support Ukraine and holding Russia accountable for the war crimes, loss and devastation it causes."
Legislators are convinced that presidential powers are sufficient to carry out such a confiscation. As an example, they cite the decision of then-US President George W. Bush in 2003 to transfer approximately $1.7 billion of Iraqi funds to compensation for victims of terrorism, and that in 2012, funds from the Iranian central bank were transferred to compensation for victims of terrorism. The Biden administration has also decided to begin liquidating $7 billion of Afghan central bank assets to compensate victims of terrorism, the lawmakers remind.
"The international community has been clear on who should bear the costs of this war – the only question is when Putin will pay for the devastation he has inflicted on Ukraine," the lawmakers wrote.
They stressed that it is a moral, political and strategic obligation to use these assets now and help Ukraine find peace.

News from Perild.com in Telegram. Subscribe to our channel